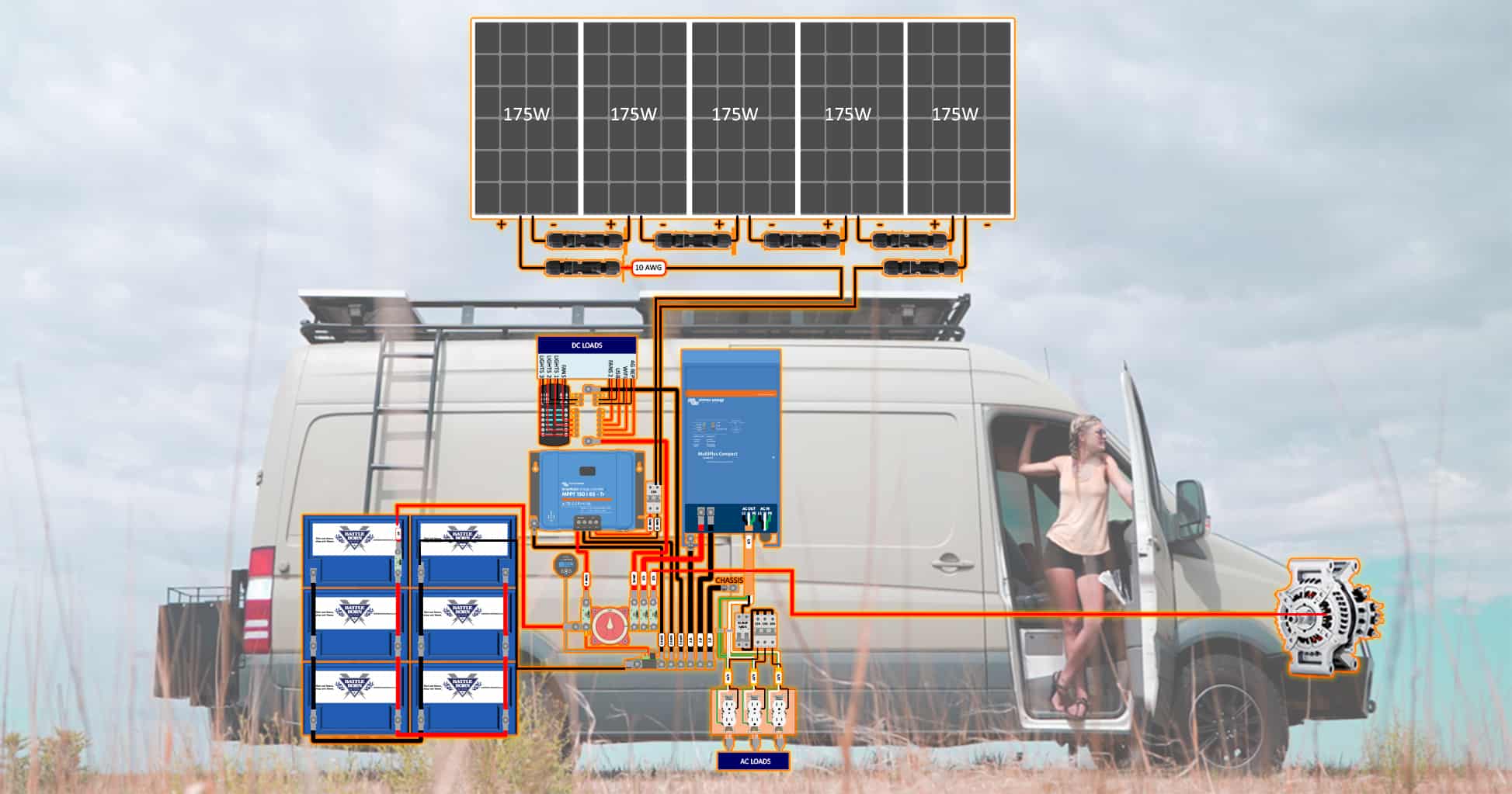 This DIY camper solar wiring diagram and parts list is perfect for ground-up electrical installs into campervans, skoolies, or expedition vehicles. This system is most suitable for systems that do not have a pre-existing house electrical system installed.
This diagram features:
2000W Inverter Charger
200+ Amp Hours of Battery Storage Capacity
200W-700W Solar Array Capacity
Alternator Charging
Shore Power Charging/Passthrough
Not quite what you are looking for? Check out other system setups here: https://www.explorist.life/solarwiringdiagrams
TABLE OF CONTENTS
HOW TO USE THIS PAGE – VIDEO
This orientation video will show you how to best use this page to build your DIY Camper Solar Setup. It's a quick watch but I think it's pretty important.
DIY Camper Van Wiring Diagram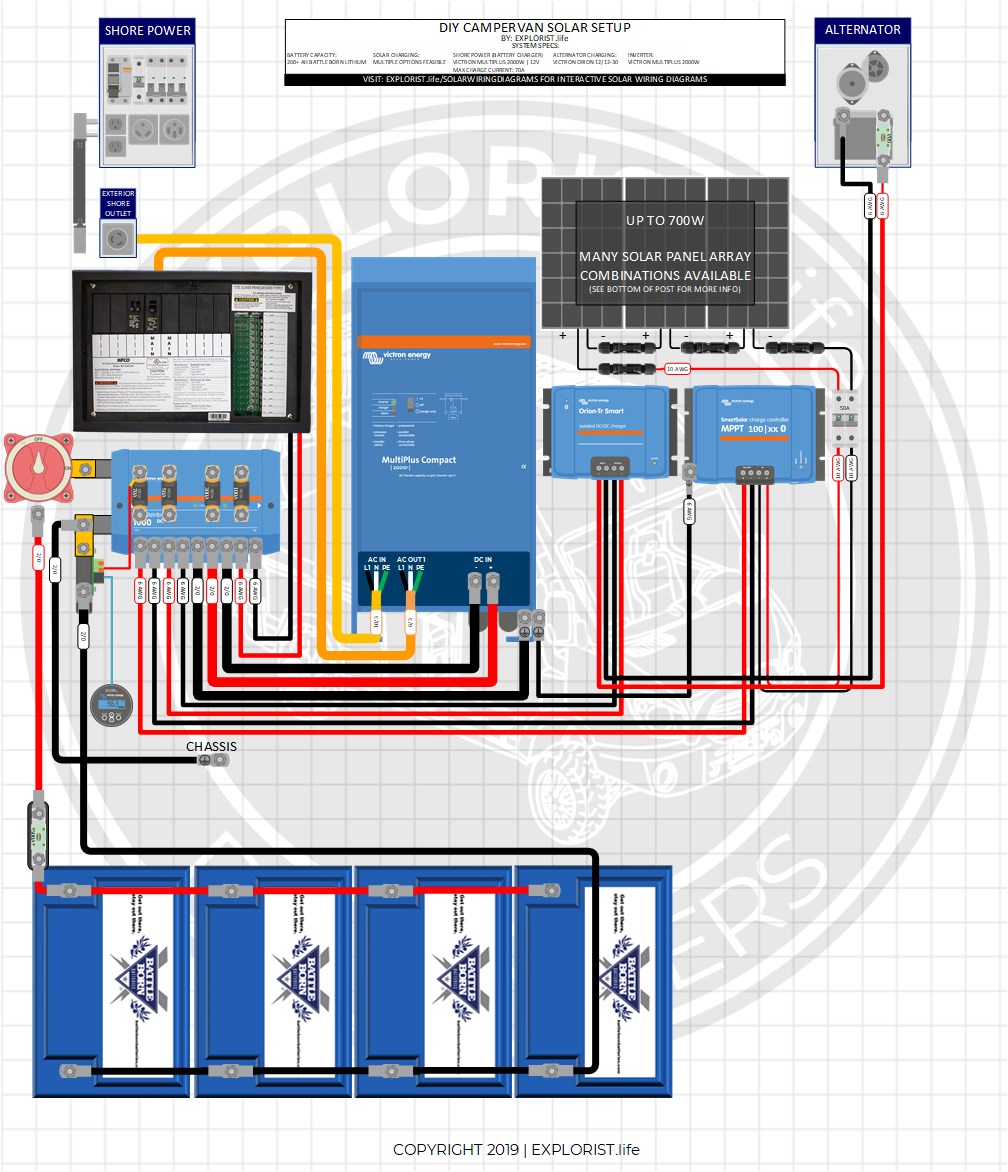 DIY Camper Solar Parts – Shopping List
The list below is a consolidated parts list for this entire system (Minus the solar charging leg, which is listed at the bottom of this blog post).
For the 'Quantities' in the below shopping list, each singular component is listed a quanty per each, wire is listed a quantity of feet, and heat shrink is listed as qty 1 = 2.25″.
For Example:
Qty 1 – Inverter Charger means you need to purchase 1 Inverter Charger
Qty 3 – 4/0 Wire means you need 3 feet of 4/0 wire. This may mean you need to buy 5ft from the product page
Qty 5 heat shrink means you need 5 pieces of 2.25″ heat shrink. This means you'll need 5 x 2.25″ pieces of heat shrink for a total of 11.25″ of heat shrink.
Camper Solar Parts Detail
The section below will tell you where each of the parts from above fits into the wiring diagram. This is quite lengthy, but if you are having trouble seeing the diagram or just want more clarification that the diagram above doesn't deliver, hopefully this will help:
Solar Charging Parts List & Wiring Diagrams
The following section provides you with several different options for solar charging. The above parts list can remain completely unchanged and the diagram above can remain mostly unchanged except for the alterations noted by the diagrams below, but whatever solar array setup you choose below for your needs, these parts will need to be added to your shopping list. These are broken up by total solar wattage. As a general rule, you want to have twice as many watts of solar as you do amp hours of batteries. So, 300Ah Batteries = 600W solar. 400Ah Batteries = 800W solar. 600Ah Batteries = 1200W of solar. This is just a rule of thumb. Not a law.
Order of Operations for DIY Camper Solar Install
This list is a rough guideline of what order things need to be connected for systems using this wiring diagram. THERE IS MORE TO KNOW about this process, though, in the user manual for each component. READ THE USER MANUAL FOR EACH COMPONENT as this 'order of operations' does NOT supersede anything in the user manual.
Arrange all parts & components where they will be mounted
Mount & secure all components to the wall/enclosure as necessary (EXCEPT Lynx Distributor)
Wire battery bank together
Assemble Lynx Distributor, master disconnect switch & shunt assembly
Mount Lynx Distributor to wall/enclosure
Verify Main switch is in the "OFF" position
Wire Positive wire from Lynx Distributor to Main fuse
Wire Positive Wire from Main fuse to Battery Bank
Wire Negative Wire from Shunt to Battery Bank
Connect negative wires from Lynx Distributor to Inverter/Charger, Charge Controller & 12V Fuse Block
Install fuses inside of Lynx Distributor
Connect Positive Wires from Lynx Distributor to Inverter/Charger, Charge Controller & 12V Fuse Block
Connect Positive Wire from Lynx Distributor to B1 Terminal on Shunt
Verify dual-pole disconnect switch for solar array is 'off'
Connect Charge Controller to Dual Pole Solar Disconnect
Connect wires going to solar array to dual pole disconnect
Cover Solar Panels with Cardboard
Connect solar array together (Order does not particularly matter)
Remove Cardboard from Solar Panels
Verify proper solar array voltage at dual pole solar disconnect
Remove 'wire bridge' on Victron Orion DC DC Charger
Connect positive & negative wire from Orion to Starting Battery pos & neg (as per user manual)
Adjust Orion Output Voltage Setting as appropriate in Victron Connect app
Connect 10/3 wire from shore power inlet to Inverter/Charger
Connect 6/3 wire from Inverter/Charger to AC Breaker Box
Verify all 120V breakers in breaker box are 'off'.
Connect AC Branch Circuits to AC Breaker Box if not already connected
Connect DC Branch Circuits to 12V Fuse Block if not already connected
Connect RJ-11 cable & BMV-712 Monitor Gauge to Shunt
Verify proper voltage between main fuse & shunt (Approximately 12V-14V)
TRIPLE CHECK THAT ALL WIRES ARE CONNECTED, POS (+) TO POS (+) & NEG (-) TO NEG (-) (except series wired solar panels) AND CONNECTED TO THEIR PROPER PLACES IN THE COMPONENTS AS PER THEIR USER MANUAL
Turn on Master Disconnect Switch
Turn on Dual Pole Solar Disconnect
Replace wire bridge in Orion
Turn Inverter/Charger 'On'.
Turn on Main AC Breaker in Breaker box & Branch Circuit breakers
Configure system charging through the parameters as per user manual of each component