Camper Solar Setup Tutorial
How to solar power your RV, Camper Van, & Truck Camper with our camper solar setup tutorial. 
Camper Solar Setup
Before I start talking about this camper solar setup, I want to let you know that there is a free eBook download found below that includes all specs and wiring diagrams for this setup.
Battle Born + Adventure in a Backpack
And we want to let you know that this post and solar build was sponsored by Battle Born Batteries. If you haven't checked out their lithium batteries, click here to head over to their website! So a huge thanks to Battle Born for helping us with our journey to teach others how they can install their own solar setup! This new camper solar system is installed on a truck camper. No, we didn't trade in our campervan, but we installed this solar setup for Nate's mom, in her new camper. Her needs for her camper solar power are pretty typical, with the main needs being running the fridge, charge her phone, her laptop, lights, a coffee maker, and periodic other electrical appliances, but overall minimal usage of anything else.
With that in mind, we designed this camper solar system with the following specs:
Battle Born has put together a kit for this system which includes all of the above components EXCEPT the solar panels. If you click THIS LINK, you'll be directed to the official Adventure in a Backpack Bundle from Battle Born, which includes all of these components at a huge discount! The FULL kit of components and details of the system can be found in our free ebook download you can get from the form below. You can also click here to purchase the kit components. Note that this post as well as the eBook download contain affiliate links, meaning that at no extra cost to you, we earn a small commission if you click through and make a purchase. We appreciate your support!
How Does Solar Work?
Here's a pretty basic description of how solar works: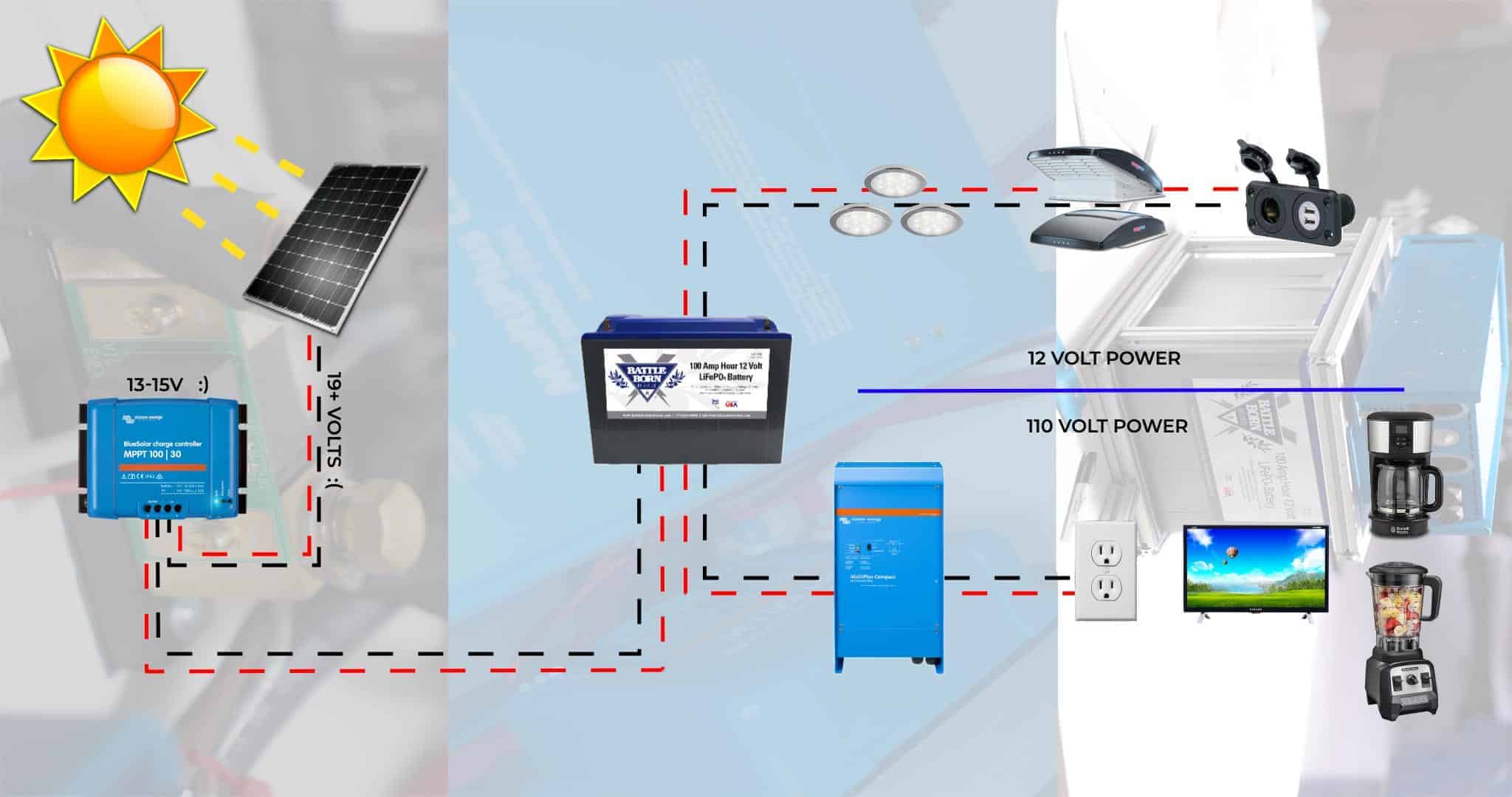 Solar Panels and Solar Controller
Energy from the sun is collected by the solar panels. That energy then comes down through wires and goes into the solar controller. The solar panels make variable voltages, so the job of the solar controller is to convert that variable voltage into voltage that is usable by the batteries.
Solar Battery Bank
The energy is then transferred to the batteries, which will store that power. Note here that neither the solar panels nor the solar controller store power; they simply collect the power and send it to the batteries for storage.
Using Solar Power
There are two ways that we can use the power that is stored in the batteries: 12 Volt power and 110 Volt power. 12 Volt power is powered directly from the battery via a power distribution block (fuse block); it doesn't need to be converted any further. Some examples of 12V powered items are 12V lights, roof fans, cigarette lighter style sockets, and USB outlets. 110 Volt power, on the other hand, needs to go through an inverter to be usable by a normal household plug. Some examples of 110V powered items are TVs, coffee pots, and blenders – things that plug into a normal (US based) household plug. This camper solar system is being installed on a truck camper, but it would really be the same process in a Camper van or RV as well. All of that info can be found in the ebook above.