Description
This 3/4″ x 1/4″ Copper Bar is sized to connect two pieces of gear together as spec'd on the EXPLORIST.life wiring diagrams:
Victron BMV-712 Shunt to Negative Terminal of Lynx Distributor.
Master Battery Disconnect to Positive Terminal of Lynx Distributor.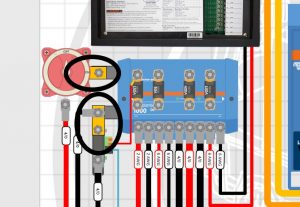 This product is for a PAIR of Lynx Adapters so you can connect BOTH your BMV Shunt AND the master battery disconnect to the Lynx Distributor. If you are only using one Lynx distributor in your system, you only need qty: 1 for a pair of these adapters.
If item shows as 'In Stock', it will ship out in 2-3 business days via UPS ground (Generally 2-3 day shipping) THIS PRODUCT OUT OF STOCK UNTIL ~AUGUST 9TH 2021
SHIPPING CURRENTLY ONLY AVAILABLE IN THE USA.