The Li-BIM is a Battery Isolator specifically designed to work with Lithium house batteries. Lithium batteries like Battle Born batteries have a slightly higher resting voltage than their AGM or Lead Acid counterparts. The standard AGM tuned isolator will see this higher voltage as a 'charging' voltage and will not disconnect the starting and house batteries which means the starting battery is at risk for getting low when electronics are used from the house battery bank when the engine is off.
Also, the Li-BIM is unique because as the alternator is engaged, the Li-BIM will connect for 15 minutes; and disconnect for 20 minutes. It will repeat this cycle as long as you are driving. It does this because lithium batteries can draw a SIGNIFICANT amount of power at one time due to its low internal resistance. This is great for rapid charging, but this high-amperage draw can potentially overheat an alternator. This on/off cycling allows the alternator to cool down for 20 minutes between 15-minute charging bouts.
Recommended Parts for Wiring an Li-BIM Lithium Battery Isolator
Li-BIM Lithium Battery Isolator Wiring Diagram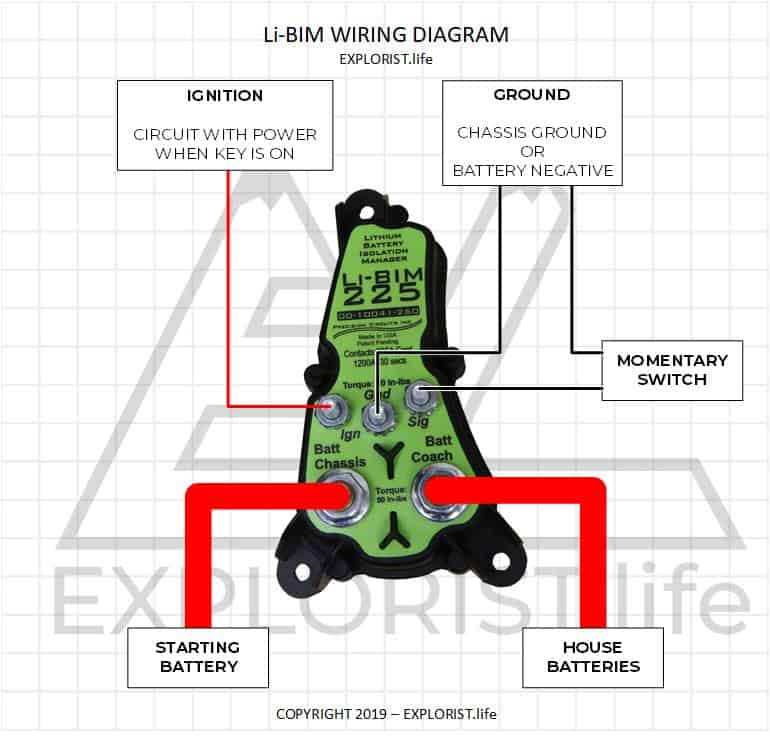 How to Wire a Li-BIM Lithium Battery Isolator
There are 5 studs on the Li-BIM, You'll need to attach a wire to each of them; and here's where they need to go.
Wiring the Li-BIM Ign Stud
Ign: This stands for 'Ignition' and needs to tap into a circuit that has 12v power when your vehicle is on.
One way to determine where to attach this is to use your multimeter;set to DC volts, OR a test light and connect the negative probe to the the metal of your vehicle. Next, start pulling fuses, one-by-one in your fuse block and test each circuit with the key off; AND the key on. You're looking for a circuit that shows 12v power only when the key is on.
Once You've found the circuit you're going to use, use an Add-A-Circuit Fuse tap, insert a 5A fuse, and run a 18ga or larger wire from the Add-A-Circuit Fuse tap to a ¼" ring terminal and attach that to the IGN stud on the Li-BIM 225.
Wiring the Li-BIM Gnd Stud
Gnd: This stands for 'Ground' and simply goes the a ground point on the metal chassis of your vehicle. This can be on the body near the Li-BIM or it can be run all the way back to a negative busbar. This is up to you.
Wiring the Li-BIM Sig Stud
Sig: This stands for 'Signal' and is simply a ground wire with a momentary switch wired in line. You will want to mount the momentary switch near your steering wheel so you can reach it while trying to start your vehicle.
The point of this switch is so that you can force-combine your house battery bank and your starting battery in the case of your starting battery getting low. Basically, when you push this switch; it gives you the ability to self-jump yourself without relying on another vehicle and a set of jumper cables.
This needs to be a 18ga or larger wire and will connect to the Sig stud of your Li-BIM with a ¼" ring terminal on one end and to the metal of your vehicle with a ring terminal on the other end. On this wire, you'll need to install a momentary push-button switch attached with two spade connectors.
Wiring the Li-BIM Batt Chassis & Batt Coach Studs
From these studs, you'll run a wire to both your house battery bank (Batt Coach) and your Starting Battery (Batt Chassis). You'll need a 5/16" lug to connect these wires to the Li-BIM. On the 'battery' side of each of these wires, you will need to protect this wire with a terminal fuse of appropriate size.
Batt Chassis & Batt Coach Wire Size.
To determine the gauge of wire and the amperage of fuse you will need on each of these wires, you'll need the following two pieces of information.
Take the amperage rating of your Alternator and multiply that by 0.7 (as 70% is the most amps your alternator can feasibly produce)
Plug the resulting amperage and the distance between your start and house batteries into this calculator and set the allowable voltage drop to 3%.
This is the wire and fuse size you will need to use. There needs to be a fuse at each battery. Terminal fuses are my preferred type of fuse as they take up less space and require less hardware.
Li-BIM Parameters
Here is a list of conditions at which the Li-BIM will activate and deactivate:
The LI-BIM 225 senses voltages of the Chassis (Engine) and Coach (Auxillary) batteries. There are three senarios to when the connection will be made, each with their own response:
Senario 1: Engine is "on" with a Chassis battery voltage greater than 13.4V and a Coach battery voltage less than 13.3V
Senario 2: The Chassis battery voltage is below 12.5V and a Coach battery voltage greater than 13.5V
Senario 3: The Normally Open Momentary Switch is pressed

Response: The LI-BIM 225 will connect the batteries for as long as the switch is pressed.