Affiliate Disclaimer: As an Amazon Associate, EXPLORIST.life earns from qualifying purchases..
This blog post is going to show you step-by-step how to install solar, lithium batteries, an inverter, and all of the wiring on a ground up renovation of a 1976 Airstream Argosy. This camper is a project of Andy Rawls, an incredibly talented woodworker and YouTuber out of the Hill Country in Texas.
This is an in-progress project and this blog post will change and evolve as the project nears completion and will change based on 'things we could have done better' after the project is complete. The goal of this blog post and all of the wiring diagrams within are going to be a 'here's what we should have done' and not necessarily 'here is what we did'. So if something in this blog post seems 'off' compared to the videos found on this page; it's because I've found a better way or better/newer parts have come on the market.
Click Here to Expand the Changes made to this blog post:

August 7, Blog Post Published.
Airstream Solar Wiring Diagram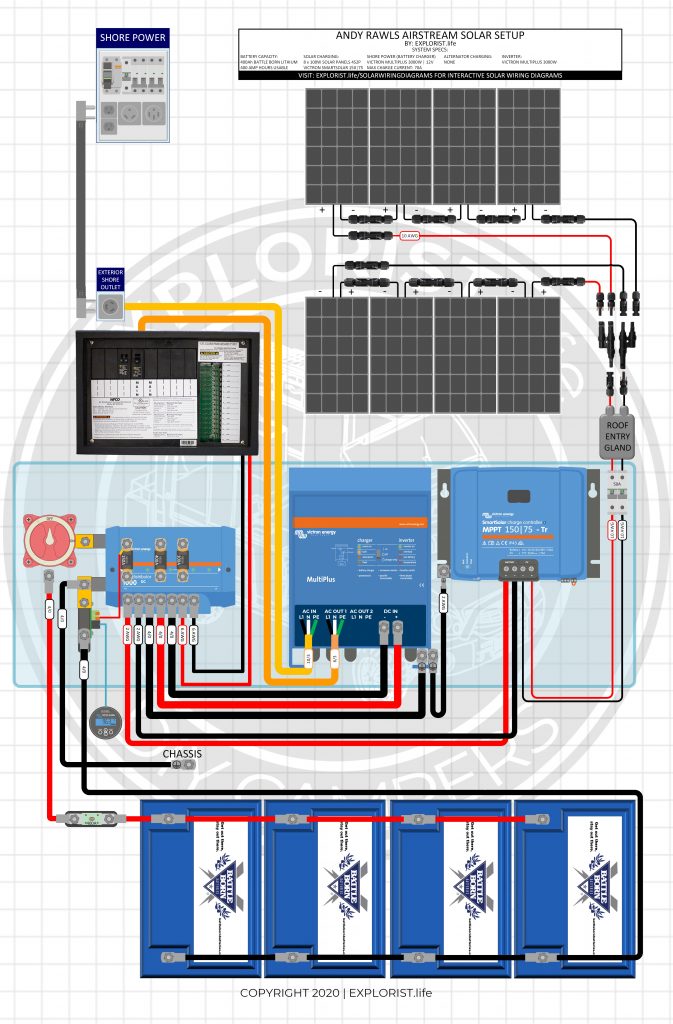 The core of this Airstream electrical install will revolve around 400Ah of Battle Born Lithium Batteries, a 3000W Victron Multiplus Inverter/Charger, and 800w of Solar. The system will be able to charge via solar at a rate of approximately 66 amps under peak conditions or from 120V 30A shore power/generator providing up to 70 amps (at 12V). Andy DOES, indeed, plan on using his air conditioner but understands the system limitations mean that if extended air conditioner usage is wanted, shore power or a gas generator will be necessary.
Airstream Wiring Parts list(Coming Soon)
Placeholder.
Airstream Solar Setup
Completely recharging a 400Ah battery bank in a single day generally takes 800w of solar. Andy took some measurements of his roof and sent them over. I got to work in Sketchup making a to-scale model of the roof to determine which panels would fit out needs the best and came out with the following. The three squares in the middle of the roof are a roof vent, air conditioner, and roof vent, respectively. The four rectangles on each of the sides are 100W Newpowa Solar panels measuring 44.49 x 19.88 inches (1130 x 505mm). These panels will be wired in a series parallel configuration and connected to a Victron SmartSolar MPPT 100/75. The wiring method can be seen in the diagram above.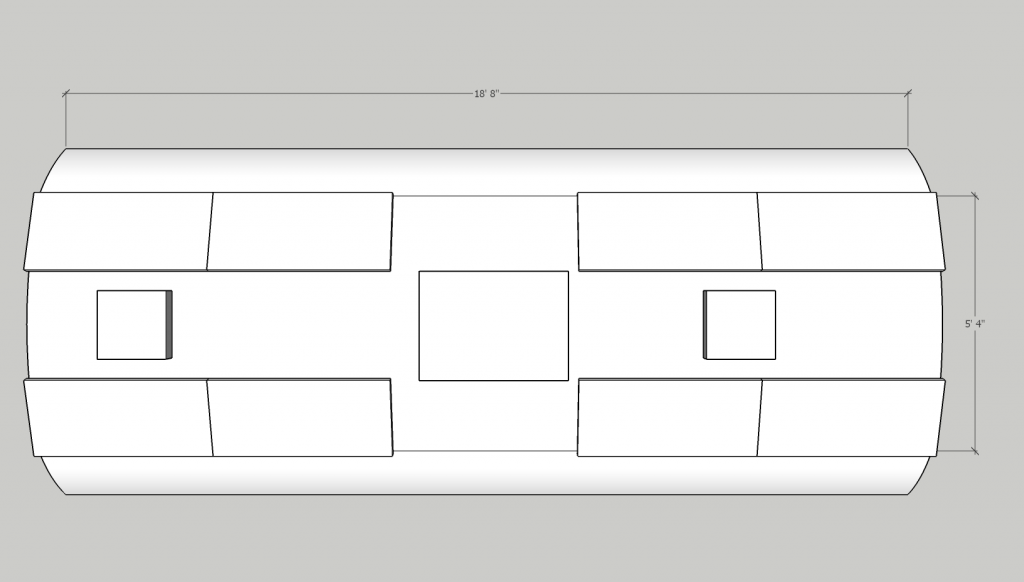 How to Install 12V Lights in a DIY Airstream Renovation
This section of the blog post will map out how Andy ran the lights and switches within his Airstream. Andy provided me with a diagram of where he wanted the lights and I came up with a plan for how to run the wires. There are 8 zones of 12v lights in this airstream broken up over 4 branch circuits:
Bedroom
Under Bed Utility
Sleeping Bunk
Kitchen
Living Area
Bathroom
Dining
Outside
Here is a diagram of approximately how his Airstream will be laid out in regards to floorplan: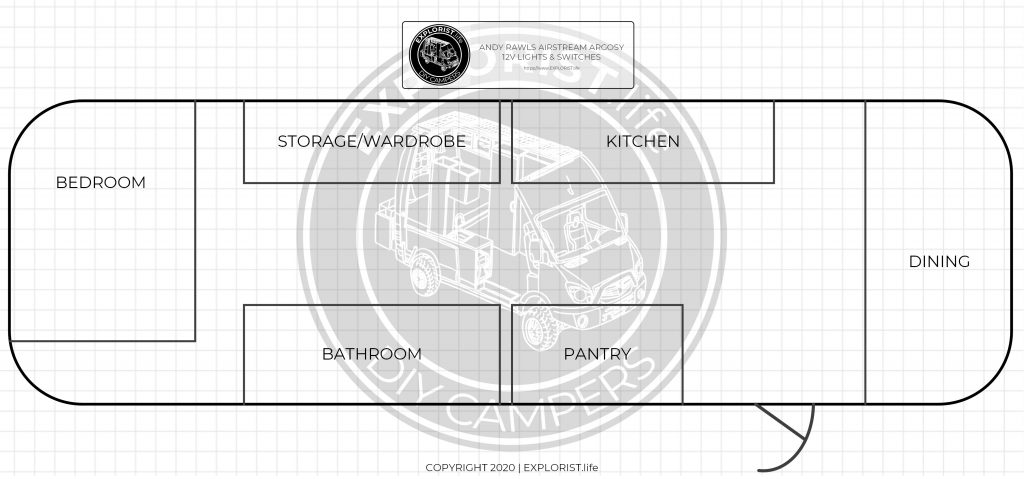 12V Lights & Switches Wiring Diagram
Here is the diagram that shows how the various lights and switches are wired around the camper: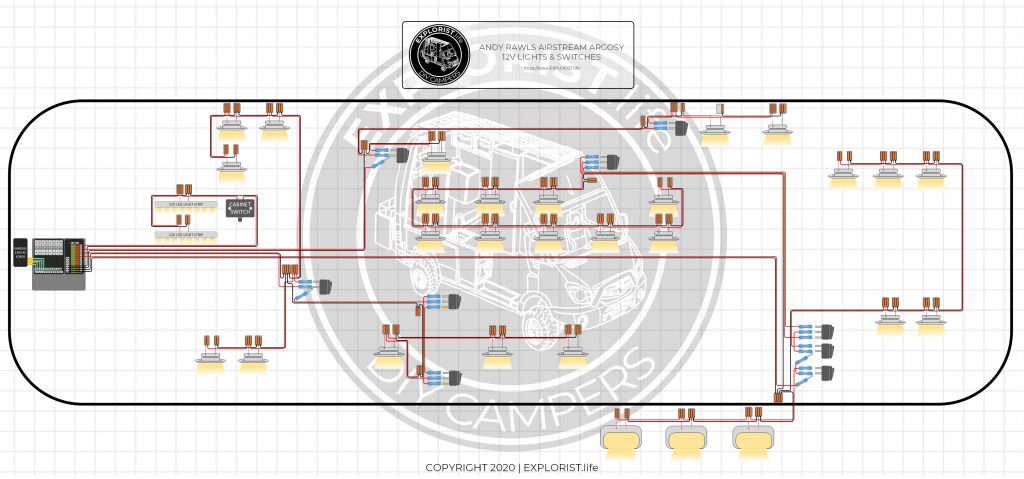 All of the individual rooms have their own zone of lights. These lights are powered by 4 separate circuits coming from the DC fuse box.
The lighting circuit in the middle of the bedroom are simply utility lights underneath the bed that are activated by a cabinet switch that turns the lights on when the bed is raised and turns them off when the bed is lowered.
Airstream 12V Appliances Wiring Diagram: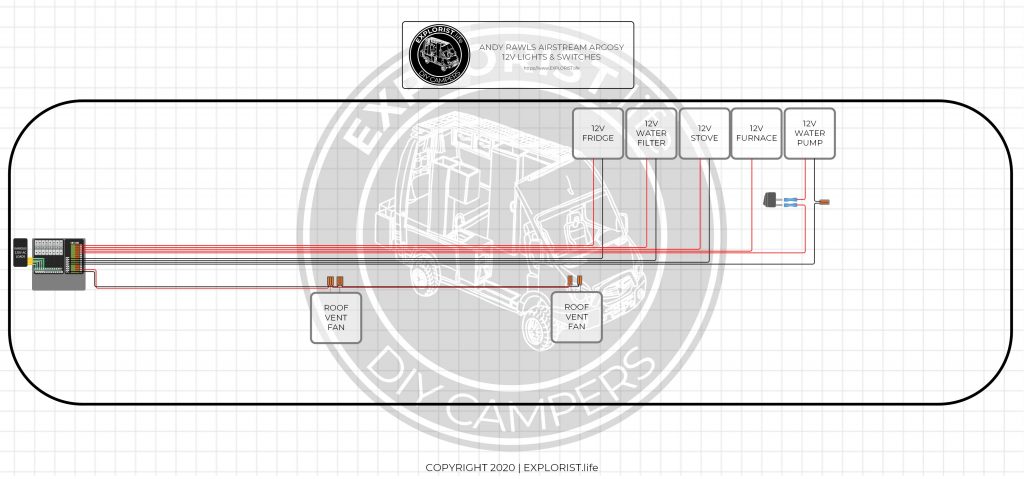 This Airstream has 7 main DC powered appliances:
Refrigerator/Freezer
Water Filter
Stove (Propane w/ 12V ignitor)
Furnace (Propane w/ 12V ignitor)
Roof Vent Fans
Each appliance will have it's own dedicated circuit with the exception of the roof fans. The roof fans will share a single circuit. The water pump will have a switch in-line to turn the water pump off when not in use or in the event that the water tank runs empty.