From Ottawa to Snowbasin in a Week
We left Ottawa last week with a long trek ahead of us. Our ultimate goal was to get to Snowbasin Utah (just outside of Salt Lake City) for the Camelbak Pursuit Series. So that gave us a little over a week to make the 2,257 mile journey. No sweat!
Pictured Rocks National Lakeshore
There wasn't a lot on the way that we really wanted to see in particular, but we did want to drive through the Upper Peninsula of Michigan. That route added a few miles onto the trip, but it was well worth it to see Lake Superior in all her glory.
The massive colorful cliffs of Pictured Rocks plummet dramatically into the crashing waves of Lake Superior on the south shore. A storm was rolling in just as we arrived, and the waves in the lake heaved as if it were the ocean. I suppose a lake that large is essentially equivalent to waves in an ocean. It was an awesome sight to see, but we were quite sad we wouldn't be able to get on the water during our visit. That will merit a trip back to the UP.
Hiking The Badlands National Park
Pressing on in our journey toward Snowbasin, we traveled across Wisconsin and Minnesota and dipped into South Dakota to visit the Badlands National Park. The Badlands are made up of pinnacles eroded out of the valley, surrounded by sweeping plains. It's a very interesting landscape in the Badlands, sort of reminiscent of Bryce Canyon in Utah. The way the pinnacles and spires jut out of the prairie so abruptly seems to be such a random change in scenery from the miles and miles of plains we had just traveled across.
We took a short hike around the Medicine Root Loop, which meandered through the prairie before turning back and taking us through the badlands formations. This particular hike began with a steep quarter-mile ascent before turning into rather flat terrain for the remaining 4 miles.
For those of you wondering as I did during our hike, yes, the term "badlands" does refer to the actual geologic landforms in the park.
Finding Treasures on the Road
One thing I love about life on the road is that we get to see and experience so many things that others may never experience or even think they would experience. One of those instances was seeing the blooming sunflower fields in South Dakota and Minnesota. I had never seen an entire field of sunflowers, and it was incredible. There were perfectly aligned rows of yellow blossoms, all facing the same direction as they soaked in the sunlight.
These are the times that I am thankful for the little moments that we get to experience together on the road. Van life is not always easy, but the treasures that we see like this bring a spark to even the most tiring of days on the road. It was a great way to break up our 36 hour drive.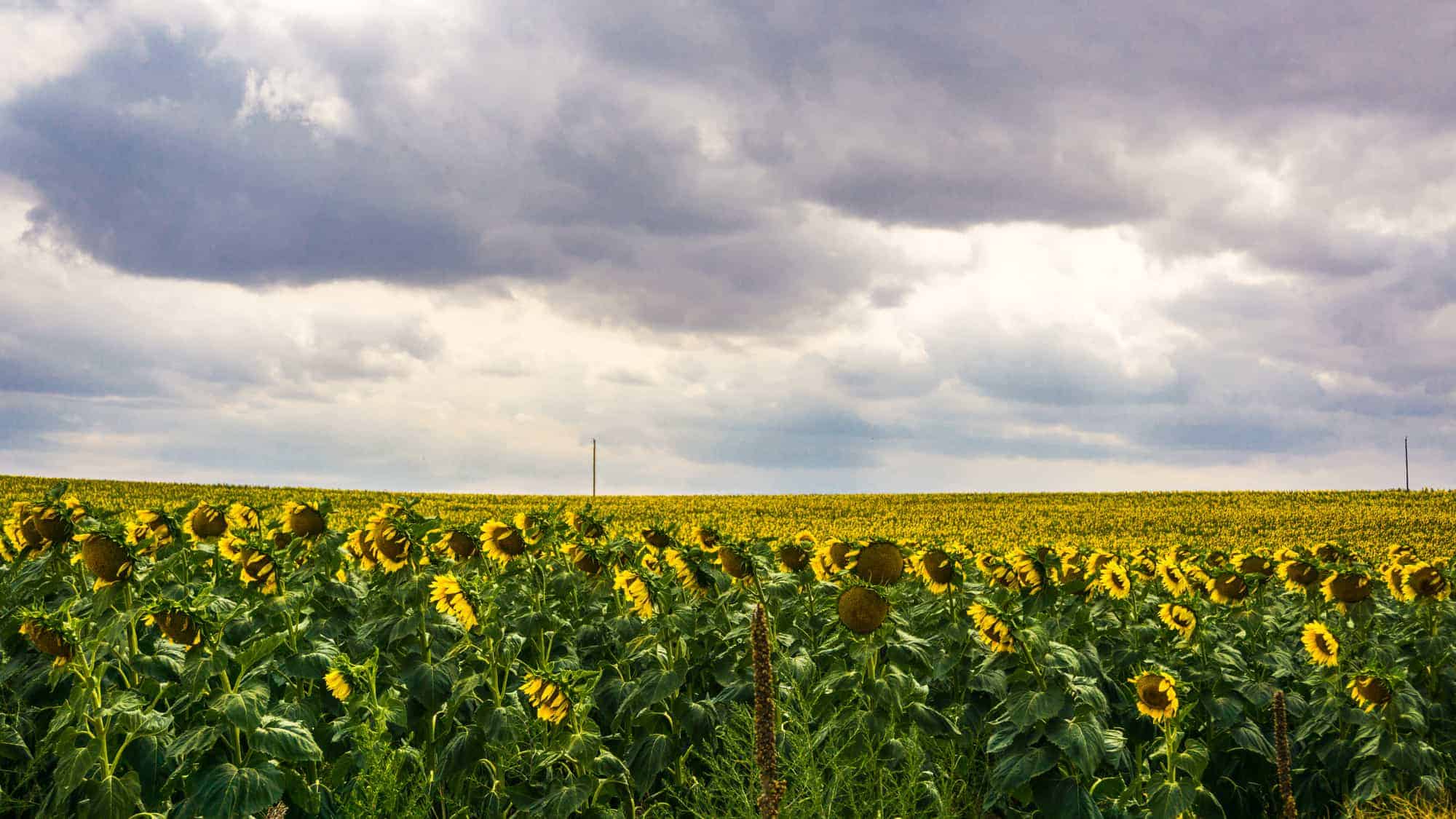 Mount Rushmore
After leaving the Badlands, we realized how close we were to Mount Rushmore and the Black Hills National Forest so we decided to pop over and see the iconic mountain. I've never really had a strong desire to visit Mount Rushmore, but since we were so close, we figured we'd tick it off the "list."
As we pulled into view of the mountain, I must admit that it was much smaller than I had imagined. In pictures, Mount Rushmore always seemed like a towering view of four of our most influential presidents, a whole mountain carved to their likeness. But as we rounded the corner and saw their faces come out from behind the trees, I couldn't help but feel a bit misled as to the magnitude of this monument.
Not to say that it was small by any means; I mean, it was still four presidential faces carved into a mountain.
We drove to the entrance of the monument and were disappointed to learn that our National Parks pass was not valid for Mount Rushmore. Whereas the parking fee was a mere $10, we decided that stopping for 2 minutes to take a picture was not worthy of that fee. Had there been hiking trails and beautiful summits and lookout points, we may have considered it, but for a simple picture we opted out. Instead, I took a few shots from the road and we stopped at the profile view lookout for our only stop at Mount Rushmore.
To say I was disappointed wouldn't be accurate. I wasn't expecting too much, so how could I be disappointed? But I can say that I won't be revisiting Mount Rushmore in the near future.
Black Hills National Forest and New Friends
Our quick stop at Mount Rushmore took us into the Black Hills National Forest to find a campsite for the evening before continuing our journey. Just about two minutes away from Mount Rushmore was a climbing area that allowed camping in the parking area. We pulled in and immediately knew we would fit right in, as three other vans were setting up for the evening of camping.
We chatted with our new van friends for a few hours as we shared stories and drinks. We headed to bed reminded of why we chose to trade our RV for a van: meeting new people and accessing our favorite areas. It was a perfect end to the day.
Heading on to Snowbasin
In just eight days, we made the full 2,257 mile journey from Ottawa to Snowbasin. Some days were longer than others in terms of hours on the road. Some days we adventured and explored. Some days we talked for hours about nothing. Some days we didn't say much at all. But we made it to Snowbasin with time to spare and got ready to attend the Camelbak Pursuit Series. Stay tuned for more about that adventure!