Top 10 Van Life Must Haves
Living in a van sounds like quite an adventure to many people, but there are challenges that go along with the lifestyle. These van life must haves are things that have made our life on the road easier, more comfortable, and more enjoyable. 
Here is our #vanlife kit: https://kit.com/AdventureInABackpack/vanlife
Clean and Comfortable Van Living
Van life doesn't always have to be cramped, smelly, and dirty. Sure, some of those things happen from time to time, but your quality of life does not need to be diminished just because you live in a van. After living in a large motorhome for a year, we learned exactly the things that we needed and were able to pair down our lifestyle to minimal belongings. We still offer ourselves some luxuries in our van, and it makes life much more comfortable to have some nicer things with us. These top 10 van life must haves are some of the thing that make our life in a van enjoyable and will help us stay in the van longer.
Solar Power
Having electricity all the time without the need for a generator was absolutely a must for us. From charging phones and laptops to powering lights and the coffee maker, all of our "house" items are powered by the sun. While this isn't really one product, it definitely makes our life on the road much easier!

You can find all of our solar products HERE and read/watch the detailed information on our solar array HERE.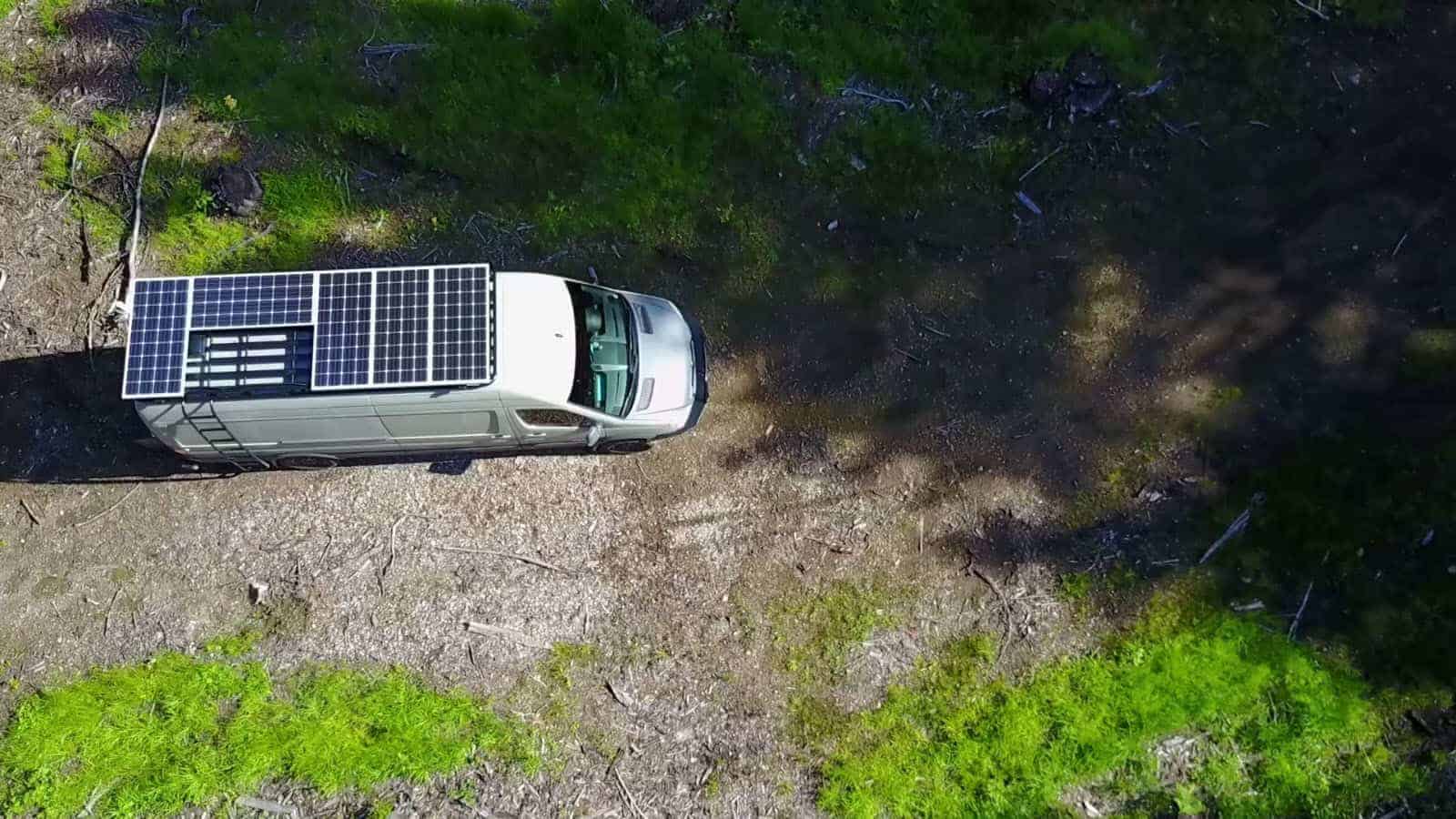 We work from the road, so having cell signal is absolutely imperative. Our RV didn't have a cell signal booster, and there were many times that we had to skip a destination or leave early so that we could drive just a few miles to find cell signal. While I cannot claim that the WeBoost stops us entirely from having to do that, I can say that it helps tremendously. 

The WeBoost Drive 4G-X RV has an external antenna the mounts on the back of the roof rack, which then connects to the antenna inside the van. The antenna inside the van repeats the cell signal, boosting it inside the van. The WeBoost has often been the difference between having just a bit of cell signal and having 4G, or boosting from no signal to a couple bars of signal. This one was definitely a game changer and a necessity for van life.
Of course, food storage is important. The ARB Fridge Freezer is great in so many ways. Since it was made for overlanding, this fridge is durable and will stand up to the shimmy and shaking of the van driving down the road. It's also super energy efficient, so we don't have to worry about using too much of our power to keep our food cool.  The chest style makes it even more efficient because we don't lose too much cold air each time we get into the fridge. Since cold air sinks, there is minimal temperature loss when we open the door from the top.
This fridge can fit about 3-4 days of food for us along with a 6-pack of beer comfortably. We could probably squeeze a week's worth of food in if we were to forgo the beer, but let's be honest here… we aren't going to do that! 😉 
Call me a princess or whatever you want, but a toilet was a no-compromise essential to our van life. We had this Nature's Head Composting Toilet when we lived in the motorhome, and we loved it. So we made sure to include it in the design of our campervan. And let me tell you, being able to pee in the middle of the night without having to leave the van raises our quality of life tremendously. 
The awesome thing about this composting toilet is that it really doesn't stink. The separation of solids and liquids stops the sewage smell, and the smell of urine can only be noticed when the tank is actively being emptied. While we try to limit our use of the 'poo compartment,' it is nice to have just in case. That also doesn't smell other than just a couple minutes after using the bathroom. It's mixed with peat moss, which neutralizes the smells and starts the composting process. I'm telling you guys, this think is awesome. We might even consider getting one if we ever move back into a house!
While there are many options for stoves for van life, we opted for an alcohol burning marine stove for a few different reasons. The first was safety. We did not want to have a pressurized propane tank in the living area of the van, and we certainly didn't want to be constantly moving it from the back to the kitchen. We also wanted a two burner, which removed any backpacking stoves from our list. And finally, we wanted the option to expand our living space and counter space by having a portable stove. We can move it onto the counter, park table, or back boxes while we cook and then store it in a drawer when we are finished. That saved us a ton of counter space!

We've also recently seen a Camp Chef oven/stove from our friends at Life Without Waiting. While it is much larger than we could really fit in the van at this point, this may have been worth designing it into the build. And, honestly, it's portable just like our little two-burner stove. And it can bake… pies on the road?!
This is actually something we debated on for a while – get a large, mounted fresh water tank or stick with a couple smaller, portable water jugs. We decided to try out the smaller water jugs to begin with and we can honestly say that it was a good decision. Filling small water jugs that you can carry by hand is 10 times easier than filling a mounted water tank. We can use campsite or rest stop water spigots or even fill at breweries as we are passing through. No one worries about giving you 7 gallons of water in a jug – but they do think twice about letting you hook up your mounted water tank. See our full plumbing setup HERE.
Update: It appears Amazon no longer sells the 7 gallon water jugs that we used, but they have them in 6 gallons still. These are slightly smaller, but they are still the same style we used for our fresh water.
When you live in 80 square feet and adventure on the regular, your clothes are likely going to get stinky.  We have changed many of our shirts and socks out to Merino wool to combat smells. Merino wool shirts are a major life changer when it comes to fighting smells and having clean clothes. The fabric is quick drying, so we can wash it in the sink and hang it to dry overnight and have clean clothes fast.
Unlike other quick drying fabrics, Merino wool is also anti-microbial, meaning that it is anti-stink naturally. And I know what you're thinking: wool is itchy. Well, this wool is spun to a soft thread that is soft rather than itchy. If it does itch a bit originally, it goes away after a wash or two. 
Besides, if you live in a van, you need this shirt:
Literally anything that is quick dry is a win in my book. The faster something dries, the less likely it is to stink or get stale. We did not have quick dry towels when we lived in our motorhome, and our regular cotton bath towels got stale and stinky very quickly and very often. So, we made sure to switch to quick dry towels when we moved into the van.
These towels dry fully within an hour just by hang-drying or just a few minutes in the dryer.  They are microfiber, so they are very soft and ultra absorbent, which makes them a great bath or beach towel. 
Living in 80 square feet with two dogs can get stinky in a hurry. We bathe them as often as we can, but sometimes it just isn't possible to get a full bath for them. When we found this no-rinse dog shampoo, it was incredible! Since dogs' paws are sensitive to baby wipes and hand sanitizer, this foaming shampoo is perfect for wiping their paws after hanging out outside. I also use it with a washcloth and brush it through their coats to give them a quick sponge bath in between real baths. It smells great, too!
As simple as it seems, a gentle alcohol-free foaming hand sanitizer is an absolute must have in the van. The obvious use for this is for sanitizing hands after using the bathroom or touching something dirty without having to use our precious water. We also use this hand sanitizer for quick sponge baths in between showers. Since it is alcohol free, it doesn't dry out our skin. Saving water is always at the forefront of our minds when living in our van!
Our couple years of experience on the road has given us plenty of time to learn the best products for van life. We hope you are able to learn a bit from us and make your life on the road a bit easier, happier, and cleaner!
Let us know if you have any questions about any of these products or would like a more detailed review of any of them. Our goal is to keep you informed as much as possible!