We get this question a lot: when you travel, what is the best way to travel with your dog? Our pups, like many of yours, are part of our family, so we don't like leaving them at home. So when we decided to make a life of traveling, our dogs were a major consideration for us. Here is how we came to our decision to live in an RV in order to travel with our dogs.
Things to Consider When Traveling with Dogs
There are several things you want to consider first and foremost when you are thinking about bringing your fur-baby with you traveling. Here are some of the top considerations:
Where/how far are you traveling?
How long will you be gone?
Is this a vacation or a lifestyle change?
How does your dog react to changes in lifestyle?
Is your destination pet friendly?
Now I'll talk about all of these in much greater detail and discuss how we came to the conclusion of an RV as the best option for traveling with dogs long-term.
How Far Are You Traveling?
How far you are traveling is a major consideration when thinking about bringing your dog along. Whether you are going on a road trip to a neighboring state or traveling halfway around the world will take two very different sets of plans. If you are able to drive to your destination, it is a much easier travel plan than flying. This is a big reason why we decided to stay in North America and travel with our dogs via RV.
Flying with pets can be very dangerous. Unfortunately, the airlines have not caught up with our society of animal lovers who want to bring their pups on adventures too. Our dogs (and cats and other pets) are part of our family, so putting them in a pet carrier in the cargo area just doesn't sit well for most of us.
Now, I totally understand that it can be done and it does happen often with no issues, but I still wouldn't feel comfortable with my pup in a pet carrier in the cargo area of the plane, with all of that noise, all by herself (note: I'm referring to our Doberman, Pyros, as Sparta the Bichon would be small enough to ride in a pet carrier in the cabin of the plane). I can only imagine the stress that would put on her.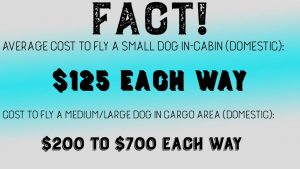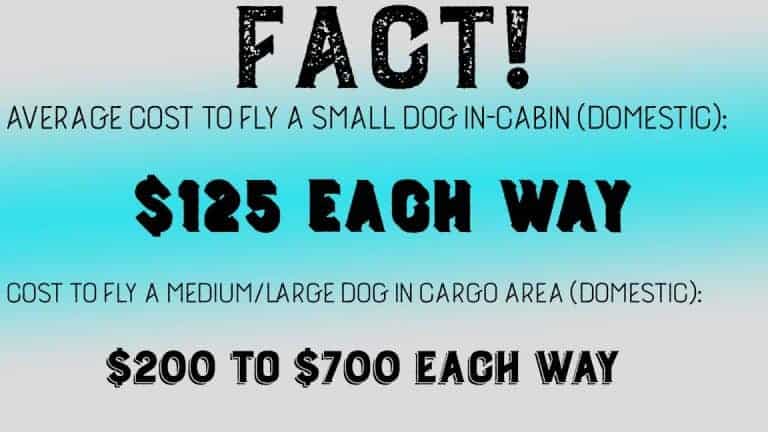 How Long Will You Be Gone?
How long you will be gone on this trip is important to your decision for traveling with dogs for many reasons. First, if you are going to be gone for months, your dog will react differently to being left at home than if it is just a week or two. Secondly, where your dog will be able to stay while you are traveling will be another consideration for timeframe. This could be a pet hotel, a pet sitter, a kennel, or a friend.
When we lived in Oklahoma, it was much easier for us to let the pups stay at home while we went on a week-long vacation. We had family that the dogs were familiar with that could watch them, and that we trusted! When we moved out of Oklahoma, it was harder to find good pet accommodations. Boarding kennels and pet hotels are a no-go for Pyros with her anxiety. But we did find a great house/pet sitter that loved and cared for them wonderfully. She also walked them regularly, so they became very familiar with her. *Any of our readers in the southeast Denver area that need a pet sitter, I'll put you in contact with her if you'd like*
When thinking about a pet sitter or kennel versus bringing your dog on vacation, you will also want to consider the cost. The longer you are going to be gone, the more the cost of leaving your dog at home goes up (assuming you are paying for accommodations). But the cost of an airline ticket for a dog is not cheap either. So there is one more thing to consider for you when traveling with dogs!
Vacation vs. Life Change
This whole conversation is different depending on if this is a lifestyle change versus a vacation. When we decided to move into an RV, we were moving for the long-term. We rented out our house, so there was nowhere to come back to for us. So choosing an RV for us made sense because it was easier to travel about the country and move around a lot without stressing the dogs out too much. They still have their "place" in our house (RV), and they have adjusted quite well.
If you are going on vacation and want to bring your dog along, I highly suggest renting an RV, if you don't have one (and if you are in the market for one, give our friends over at Transwest a call). Taking your dog along with you on an airplane, for all of the above mentioned reasons, is very stressful and difficult on both you and the pup for just a week or two long vacation. RVing has been the best decision for us for traveling with dogs!
Don't Stress Buster Unnecessarily
Traveling with dogs is stressful on both the owner and the dog! There are many changes to normal vacation plans that need to be considered when traveling with dogs as opposed to traveling without dogs. But stressing out the dog unnecessarily is a big red flag for us.
We have two dogs with two very different personalities. On one hand, we have Pyros who is a big bad Doberman who is afraid of cardboard boxes. She is friendly and loving, but shy and sometimes skittish. On the other hand, we have the fearless Sparta (the Bichon), whose only fear in life is not getting more dinner!
So when we think about traveling with our dogs, our biggest fear is always Pyros getting stressed out. We don't like to put her under any undue stress, obviously, but she still loves adventures. So would I take her on a plane to South America for a trip of hiking and climbing? Probably not, because of the plane ride. Would I take her hiking and climbing in the Rocky Mountains? Hell YES! She loves that stuff! And that's why we take her in the RV!
RVing with Dogs
We did have an adjustment period when we first moved into our RV, both for us and for the dogs. It took Pyros a few tries before she realized that when the walls started moving, we weren't all going to die (the slides on the motorhome freaked her out, understandably)! She also took some time to get used to the squeaks and bangs of stuff moving around while we are on the road. But eventually, she came to understand that this was home. She has her place on the floor where she rides, and she loves the life of adventure!
Now there's Sparta, too! He is little King of the Road! He enjoys sitting on my (Steph) lap or on the ottoman up front while we drive so that he can look out the window. He really enjoys the window being open and the wind on his face, but it's pretty loud to drive with it open so he doesn't get to indulge in that often. Otherwise, we leave one of the tall windows in the living area open for him and he sits behind one of the chairs to look out the window. It doesn't take much to make him happy!
Both of the dogs have learned that as soon as we stop, it means we are in a new place! They immediately want to get out and sniff ALL the things!!
Ultimately, we know that both of our dogs are happier living in the RV than they ever were living in houses. They go on regular adventures, they get to sniff all kinds of things, and they get to meet new friends (birds don't seem to want to be friends with Pyros, though…)! They have their spots that they lay during the day and they come and sleep in the bedroom in their beds at night. They know their routine and have been great about it. Some days they decide they don't want to go on a hike, but that's okay! They are allowed to rest and relax, too! But overall, they love this adventure-filled lifestyle.
Pet Friendly Vacation
Of course, a big consideration when thinking about traveling with dogs is whether or not your destination is pet friendly! This is everything from pet friendly accommodations to vaccinations and quarantines needed for pets entering another country. Before you start thinking any further about traveling with dogs, make sure your destination will allow them to be safe and happy!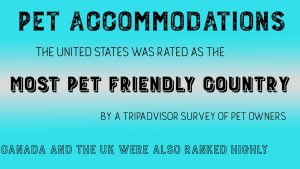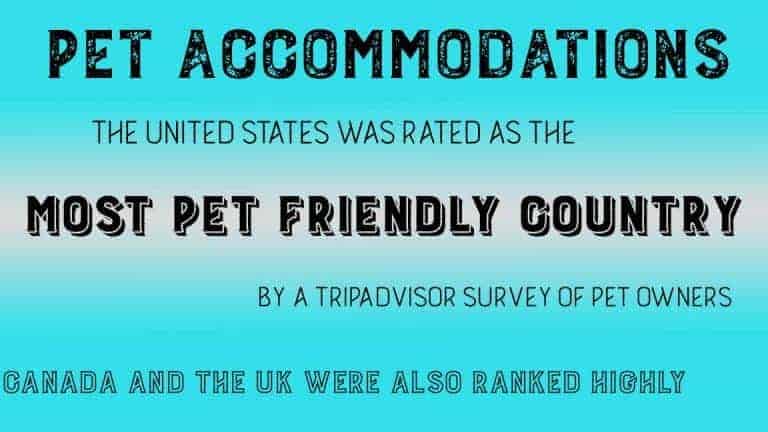 There are many dog friendly hotels and other accommodations throughout the world, but you definitely need to check before assuming such. Another consideration on pet accommodations is whether or not there is a good area to walk your dog regularly. If you are staying in a big city, you may want to look for dog parks in the area. If your hotel or other accommodations are pet friendly, you can always ask them ahead of time where the best place to take your dog for a walk will be.
Tips for Traveling with Dogs
Whatever you decide is the best option for you and your pooch to travel, there are still ways to keep both of you happy and comfortable. Here are some great ways to keep your fur-baby happy when traveling:
Pack their favorite toy/blanket
Have calming treats on hand for when/if they get anxious (CLICK HERE)
If your dog has anxiety, try a hugging sweater (CLICK HERE)
Pack PLENTY of food and water (CLICK HERE for an easy packable dog bowl that will make your life easier!)
Keep a routine for feeding/water and walking – this will help with your dog's anxiety on the trip
Don't forget the poop bags! (CLICK HERE for my favorites. These are my favorite because they are biodegradable and have HANDLES for easy tying!)
Stop often on long road trips to let your pup out and let them run. We like to wear out our pups with a long hike or bike ride before a long trip so that they sleep like babies during the drive.
Whatever route you choose to go for traveling with dogs, just be sure they are safe and as comfortable as can be. You ultimately know what is best for your dog! If you have any questions or comments, feel free to leave us a note below!
Be sure to subscribe to our blog below and check us out on Facebook, Pinterest, Instagram, and Twitter! Until next time, Live Vicariously!