Spend a long weekend surfing in Baja California and experiencing Mexican culture with new friends? Yeah, we're game!
A SURFING EXPERIENCE
We got the opportunity recently to head to Baja California to spend a four-day weekend learning to surf and experiencing an amazing time in Mexico. How could we say no? While it was tough to leave our van and our beloved puppies behind for the weekend, we decided to take the opportunity and scout out a potentially epic trip for the future.
The Trip: This was a 4-day weekend trip run by Baja Experience Tours out of San Diego, CA. We all piled into a passenger van, left out of San Diego on Friday morning, and headed into Mexico first thing. The four days were spent surfing, eating, and experiencing Mexican hospitality.
Note: This trip was sponsored by Baja Experience Tours. All opinions and experiences are our own.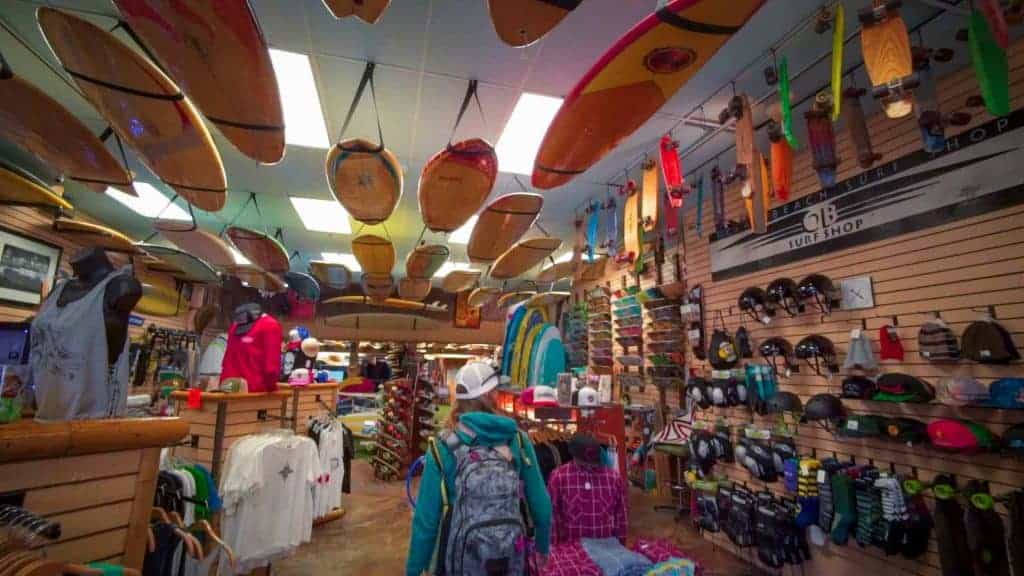 LEARN: SURFING IN BAJA
The first section of the mission statement of Adventure in a Backpack is to Educate. We strive to provide an educational aspect to each of our adventures to provide value to you, our readers. This trip was a big part of that education – for us and for you. Part of the lure of the Baja Experience Tour is that it is led by surf instructors from Ocean Experience Surf School – the oldest surf school in San Diego.
The surf lessons provided on this trip were phenomenal. In depth instruction out of the water and real time feedback in the water is invaluable. Indo boards to train for balance and oceanography instruction proves helpful in the water. But even more than that, this structure of having four days with our instructors allowed us to ask questions we normally wouldn't think about during a lesson. Things like "how do you do decide if a break is surfable" or "how do you spot a rip tide" or "what is even the danger behind a rip tide." Leaving this trip, we gained a plethora of information from our instructors.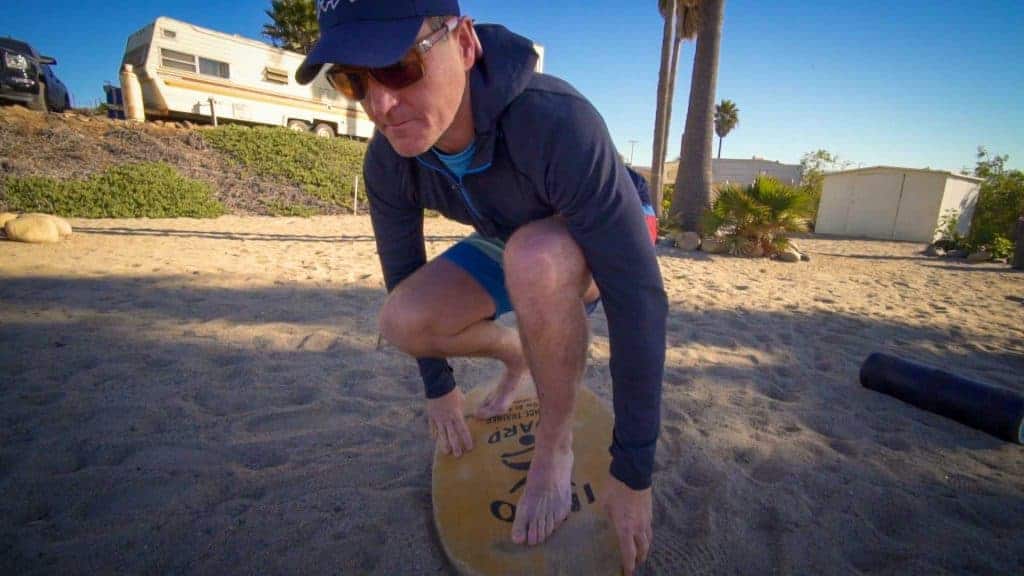 SURF
This is why we came on this trip: surfing in Baja California. After spending our first morning on land getting down the basics of surfing, we got our first taste of surfing. Let me tell you something: the water was cold; but it didn't matter. It didn't matter because that first wave that you catch, you forget all about the water. You become one with your surroundings as you ride the wave, balanced as you practiced on land, eyes focused and determined, rushing ever closer to the shore. When you catch that first wave, you know you've done it. You've surfed. You're there.
Sure, you may not quite be ready to ride in the Vans World Cup and you may not quite be sure what Hang Ten actually means, but you've ridden your first wave. And that's rad.
Over the rest of the weekend, you progress even further. We all know that practice makes perfect, and it's true with a newly learned sport as well. Practicing for three days in a row makes you immediately stronger. Although by the end of the last day I was completely incapable of paddling any further, I was delighted to even be floating on a surfboard in the chilly water. Three days of surfing made us feel like we could continue our education and practice of the sport confidently and safely in the future.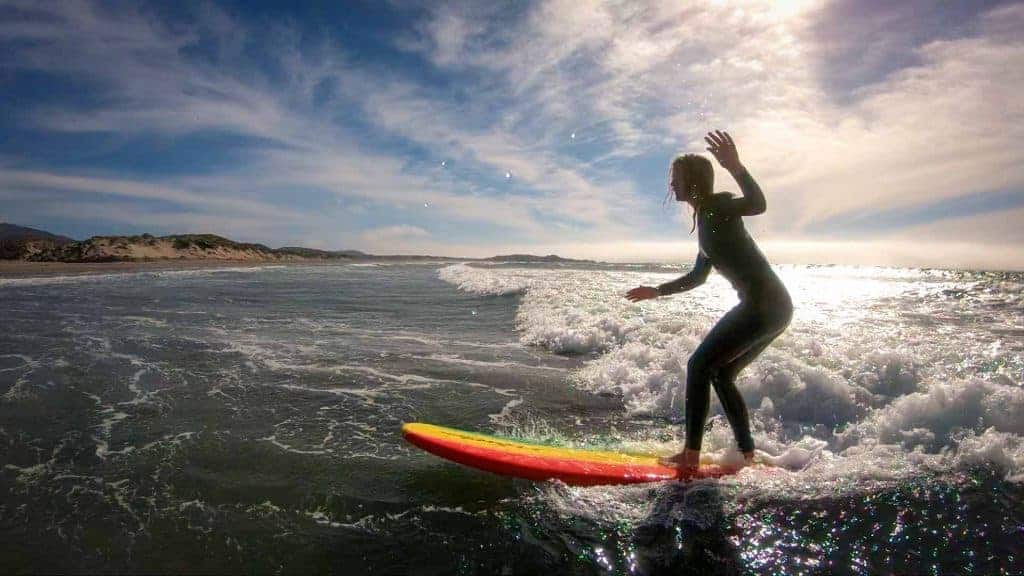 EXPERIENCE
A major part of this Baja Experience Tour that we were excited about was experiencing more of the Mexican culture and learning more about the area. During our drive down from San Diego, our guides talked about the history of the area and the culture that has driven tourism to Baja. For lunch on our drive down, we stopped in Ensenada for the famous fish tacos… yum!
Our hostel was situated in a small farming community in Erendira Mexico, with a population of about 1,000. The hostel overlooked the ocean and was on the very edge of the community, providing quite a bit of privacy and seclusion. Being so secluded made it difficult to interact with the locals, however.
We had dinner at two separate restaurants in town during our stay. Gloria's, which was a small restaurant in the home of Gloria, boasted some of the best chicken burritos I've ever eaten. Our second dinner was at Castro's, which featured fresh fish, typically caught that day. We ordered Machaca Pescado, which Google Translate told us meant "Crushed Fish." Didn't sound too appetizing, but if there's one thing we've learned from traveling, it's to always order the special. That we did, and we weren't disappointed!
Our final night on the trip, we ventured into San Vicente, a bit larger community just inland of Erendira. On the drive over, we stopped at the mission to learn more about the colonization of the area. Built by Spaniards in the late 1700s, the missions are now crumbling walls, barley recognizable as building walls. We would have loved to have been able to visit the museum of the mission, but being Sunday, it was closed.
Onece in San Vicente, we picked up some carnitas to go, then explored the shops and farmer's market that was bustling on that Sunday evening. Part of the allure of this trip was to experience the local culture, and this evening was the highlight of that experience. Visiting local shops and markets, we tasted foods we had never eaten and pondered delicacies of which we were unsure.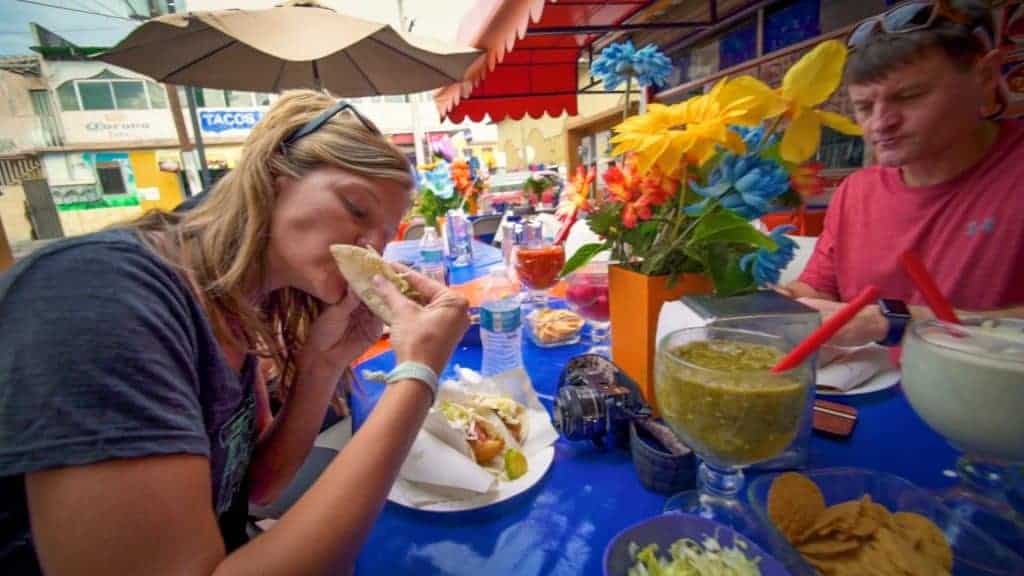 OVERALL BAJA EXPERIENCE TOUR THOUGHTS
This trip was definitely different than our typical adventures. We typically have a hand in planning each aspect of our adventures, and this was much different in that we handed off all logistics and experiences to Baja Experience Tours. We had an awesome time building camaraderie with fellow participants and interacting with the guides. The surf instruction was on point. The cultural experience left some to be desired, however, staying in a hostel so far away from the town.
Our main purpose of this trip was to determine if this trip would be a great experience to share with our fellow adventurers here on Adventure in a Backpack. And while we do think the trip could use some tweaks, we are confident that the knowledge and experience brought by Baja Experience Tours coupled with our vision to educate, inspire, and entertain, will garner an unmatched experience of surfing in Baja California.
BAJA EXPERIENCE TOUR
Would you like to join us in the future on a Baja Experience Tour? Join us on Facebook in our new Stokeology Group for the latest updates on trips and adventures!
If you'd like to book a trip with Baja Experience Tours on your own, click HERE and be sure to mention Adventure in a Backpack when you book.