Affiliate Disclaimer: As an Amazon Associate, EXPLORIST.life earns from qualifying purchases..
Mango Rosa Resort: SaN Juan Del Sur, Nicaragua
When we booked our stay at Mango Rosa in San Juan Del Sur, we didn't know what kind of adventure we were in for…
In the heart of the outdoors
We've stayed at resorts before that claimed to be "Adventure Resorts," but we have to say that Mango Rosa outperformed our expectations – by a lot! Mango Rosa is a beautiful resort in San Juan Del Sur that is just north of the town, near Playa Marsella. While the resort is outside of town, it is in a quiet (unless the monkeys are active!) jungle area that is close to world class surfing beaches and secluded enough that you don't hear the fiestas in town all night.
Beautiful Casitas with Room to Spare
Let's start with the Casitas, because that's the most important part (IMHO) when you are booking a resort or hotel. Where are you sleeping, and is it clean? Well, Mango Rosa doesn't disappoint with their beautiful Casitas. Each Casita is set up a little bit differently, but ours was a two-bedroom that slept 6 comfortably. Of course, it was just the 3 of us, so we were incredibly comfortable with plenty of room to spare. The Casitas were very well-kept and clean, with a full kitchen so you could cook for yourself if you wanted to do so. The front porch also had a comfy hammock and sitting area, which was great for watching for animals early in the morning!
Resort Grounds and dining
Since Mango Rosa is a bit outside of town, it's not practical to go into town for dinner every night unless you have your own car. Luckily, the resort restaurant has a variety of incredible dining options for breakfast, lunch, dinner, and snacks. Willaim in the bar is super friendly and quite funny, so chat him up and get some good eats while you are enjoying your stay. And if you need a quick snack to munch on during the day, I highly recommend having some plantain chips and hot sauce on hand… all the time. It's delicious, trust me!
The remainder of the resort grounds are well groomed and quiet. Winding paths meander through the gardens to each Casita, offering privacy during your stay. As you explore the grounds, keep an eye out for the resident wildlife, including sloths, howler monkeys, squirrels, birds, and some reptiles!.
Adventure: What Mango Rosa Does BEST!
Okay, so when you're not sleeping or eating, what else is there to do at Mango Rosa? Well, there's a LOT to do! My first tip is to meet up with the resort's activities manager, and she will happily point you in the direction of some great activities that fit your style. During our stay, we had no shortage of adventures with Mango Rosa. We visited several beaches in San Juan Del Sur, tagged along to surfing lessons (although we had already had our lessons, we were able to take pictures), hiked to El Toro, and rode on the back of "The Beast." We had plenty to keep us busy off the resort, and when we got back to the resort, we had even more activities to keep us going. The pool is the most obvious activity, but there is also a kid's play area and a lounge hammock area on the resort. If you are looking for activities, well, you've come to the right place! Mango Rosa has it all! Check out our list of our Top 6 Things To Do in San Juan Del Sur for even more adventure inspiration. If you haven't already, be sure to watch out video at the top of this page for some awesome visuals of the adventure aspect of Mango Rosa..

Kid Friendly Activities
While we don't have kids ourselves, we did notice that there are tons of activities that are kid friendly. So if you are looking for a family friendly resort in San Juan Del Sur, Mango Rosa is a great option. On the resort, there is a trampoline, soccer goal, and of course the pool, which are all great for kiddos. All of the activities that we did would also have been great for kids, even the hike to El Toro. Mango Rosa also offers zip lining, although we didn't have a chance to do that between all of our other adventures.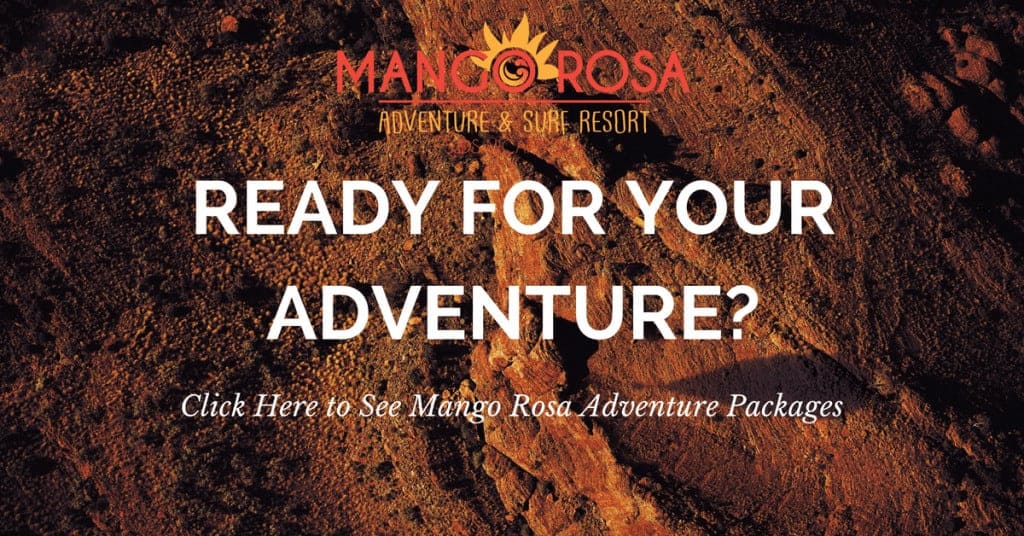 A Family Friendly Resort in San Juan Del Sur
In all, Mango Rosa exceeded our expectations. This is a resort in San Juan Del Sur that has something for everyone. Whether you want to relax by the pool and drink piña coladas or you are looking for a surfing lesson for the day, Mango Rosa has it all. Click the picture above to check out their Adventure Packages!
Disclaimer: Mango Rosa graciously sponsored this post; however, all opinions stated here are our own and not influenced in any way by the resort.