Affiliate Disclaimer: As an Amazon Associate, EXPLORIST.life earns from qualifying purchases..
OUR DIY CAMPER VAN CONVERSION
This is it, it's finally done!  We can proudly announce that our DIY campervan conversion, aka Backpack 2.0, is COMPLETE.  After three months of blood, sweat, and tears (mainly sweat), we are ready to hit the road in our custom DIY Sprinter Camper Van.
FROM THE BEGINNING
So for those of you who might be new here, we purchased our 2007 Mercedes Sprinter from St. Louis, MO back in March 2017.  It had 194,000 miles on it and had previously been used as a plumbing van.  Overall, it was in good shape and a great candidate for a campervan conversion.
We planned to take about 2 months converting the van before taking off to live in it full time with our two pups.  This campervan will be our home for the next however many years we decide to stay in it.  So, let's get to the build…
FACTS ABOUT OUR DIY CAMPER VAN
2007 Mercedes Sprinter (Badged as a Dodge)

194,000 Miles at Purchase

Purchased for $12,400, total cost $14,082.57 after registration fees
Built entirely by Nate and Steph

Approximately 90 sq. ft living area

Total campervan conversion cost: $38,867.57
WATCH THE FULL VAN TOUR HERE: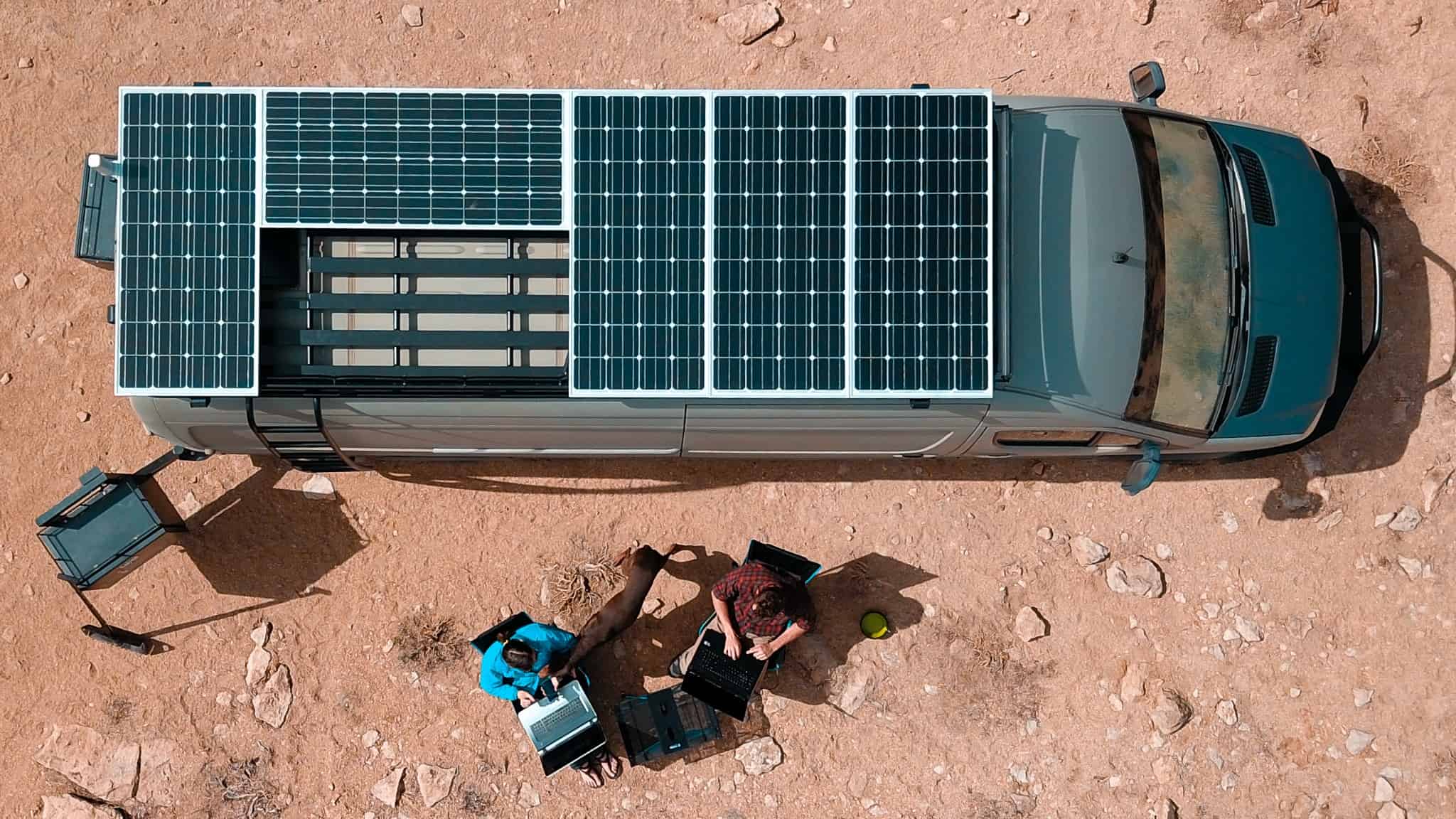 Flooring: We installed bamboo flooring for easy cleanup in the van. It was simple click and lock flooring and the installation was quick and easy to do.
Total cost of Flooring: $283.99
Plumbing: Our plumbing for fresh water is run from the back "garage" of the van under the bed and is plumbed to the sink in the kitchen.  It's run off of a simple irrigation pump and drains by gravity down to the grey water tank under the sink.  *Note: full write up to follow soon*
Total Cost of Plumbing: $255.89
Other Misc. Costs:
| | |
| --- | --- |
| Appliances | 338.39 |
| Composting Toilet | 400 |
| Sound System | 718.96 |
| Bed & Mattress | 482.56 |
| ARB Refrigerator | 607.18 |
| Roof Rack | 3114 |
| Front Bumper | 3066 |
| Rear Bumper with Boxes | 3910 |
| Swivel Seats and Seat Covers | 705.05 |
| Wheels and Tire Upgrade | 1899.75 |
| Window Tint | 125 |
| Tools/Misc. Parts | 566 |
Grand Total Cost of Our DIY Campervan Conversion (including van cost):
$38,867.57
Enjoy this post?  Find it helpful?
It'd truly mean the world to us if you'd share it with your friends.
[social_warfare]