Colorado: Chapter 1 – Kremmling
Finally!  We have actually got the wheels turning on our big adventure!  Like with most stuff, it seems to take FOREVER to actually get past the planning phase to the action phase of a plan.
Moving Out
We REALLY started moving stuff out of our townhouse into the RV on Thursday.  We made quite a bit of progress, but it still took us most of Thursday and Friday to get everything moved out, sold, given away, thrown away and then got the townhouse into a condition where we were content on showing it to be rented.
Night .9
We will call out first night in the RV 'night .9' because it really wasn't quite 'day 1' caliber.  Our first actual night in the RV was Thursday night.  We had enough of our stuff in the RV to warrant not staying in the townhouse that night.  After calling the Aurora Lowes and Dicks Sporting Goods and getting told that overnight parking was not allowed, we finally got permission to park overnight in the Target parking lot.  Surprisingly, there aren't that many places that will allow you to park overnight, but more on that another time.  We both slept pretty good even with a few trucks running around plowing snow.
The next day (Friday) we finished moving EVERYTHING out of the house and cleaned it top to bottom.  When we were getting close to leaving, it was getting dark and cold out, so our planning of 'where to put our things' basically went out the window.  When we actually left, we had stuff EVERYWHERE!  No worries though, we will just bring it with us and organize on the road.  We had the wheels rolling on Backpack (the RV) with Daypack (The Fiat) in tow by 7:00 pm.  After a few quick burritos, we set off westward.
Night 1
Here's the more official 'first night'.  We drove to Evergreen, which is just barely up in the mountains, but is still in the mountains none the less.  It was 45 minutes to an hour from the house.  We set up camp for the night in a Wal-Mart parking lot due to their easy Wal-Mart RV Parking policy.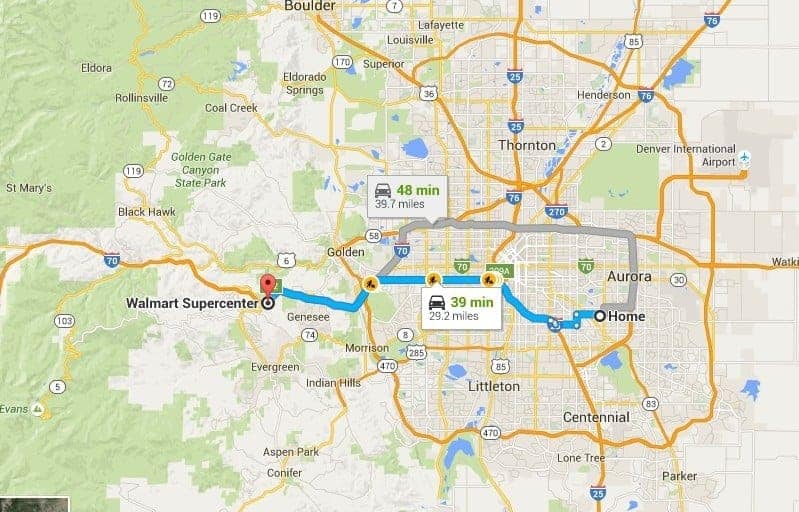 Again, not much to say about the 'camping site'.  It was just a brief stop-over.  We did get a little bit of organizing done inside Backpack on Sunday morning while waiting for the roads to de-ice and the skier traffic to die down.
Loveland Pass
Being such a big heavy truck, it has to be driven like a big heavy truck.  There are no classes that need to be taken in order to drive an RV of this size, but honestly, there should be.  I had no problems, but I know about downshifting and how to use an engine brake and all that fun stuff.  If I didn't know that kind of stuff, it would have been super sketchy.  We made it up Loveland Pass, through the Eisenhower Tunnel, and down the western slope of the pass in a slow, steady manner.
`
Kremmling
After a quick stop for a few supplies in Silverthorne, we made our way north to Kremmling at the Red Mountain RV Park.  This will be our home for the rest of ski season (unless something different comes up #adventure).  It's a town with a population of 1,300.  We are both pretty excited about being in such a small town again.  It's been a few years since we've lived in a small town.  Although this was not on the top of our list of places to stay, there are no campgrounds in Winter Park, Granby, Frasier, or Tabernash.  We were even hoping to rent a driveway of somebody who lived in any of those towns, but with all of those worms in the water, we got no bites.  Here's the silver lining: Kremmling is 50 minutes from Winter Park, 50 minutes from Steamboat, 50 minutes from Copper Mountain, and 40 minutes from Grand Lake.  Whereas Kremmling in itself isn't much (so far, we haven't gotten to explore here much, although we've already seen a large herd of Elk and found a saloon with a really good burger), it's equidistant to 4 REALLY cool places that we are very excited to explore more of.  This is really what this adventure is about, finding NEW places that are off the beaten path that don't see many tourists.  We will be showing much more of our RV park when we get a chance to take some pictures, so be looking for that in another post.  Stay tuned!