Campervan Kitchen: French Dip Subs
Our philosophy on cooking in a campervan is to keep it simple. We use as few ingredients as possible and as few dishes as possible, but still manage to make tasty meals that no one complains over! This is our first episode of Campervan Kitchen, and today we are making French Dip Subs.
French Dips Fast
This French Dip Sub recipe is pretty simple. It's our go-to recipe when we have been on the road all day, don't really have time to cook, but also don't want fast food. Since it only takes about 20 minutes to make, it's a great quick meal that's a million times better than fast food!
French Dip Sub Recipe (Serves 2)
You'll only need 6 ingredients for this recipe (8 if you include staples like salt and olive oil). We ran to the grocery store and picked up:
1 7oz package of roast beef

1 can of beef broth

1 package onion soup mix

1 red onion

1 poblano pepper

2 sub sandwich rolls

About a Tbsp olive oil

Dash of salt
Remember, we're cooking in a campervan here. This isn't an exact science nor are these recipes going to include much in the way of measuring. I'm not sure we even have measuring instruments in our van… So have some fun with it, make it your own!
Making French Dips in a Campervan
We start out getting the onions and peppers sliced up and sauteing with olive oil and salt in the pan. While those are cooking, we'll get the broth going. Add the can of broth, one extra can full of water, and the onion soup mix together in a saucepan. Heat that mixture on high until… well, until you're tired of waiting for it. Then add the roast beef to the broth one slice at a time, and heat the mixture again. Basically, you just want it heated enough to get the mixture all combined and the roast beef to soak in the flavor. To heat up the sub rolls, we actually like to stick them in the pan right on top of the onions and peppers. One: it saves dishes because we don't have a toaster, and two: it gives the bread a nice flavor! Once the peppers and onions are ready and the broth has heated up, you're ready to plate. Using tongs, fish the roast beef out of the broth mixture and pile it onto the subs. Top it with onions and peppers, dip the completed sub in the broth, and enjoy!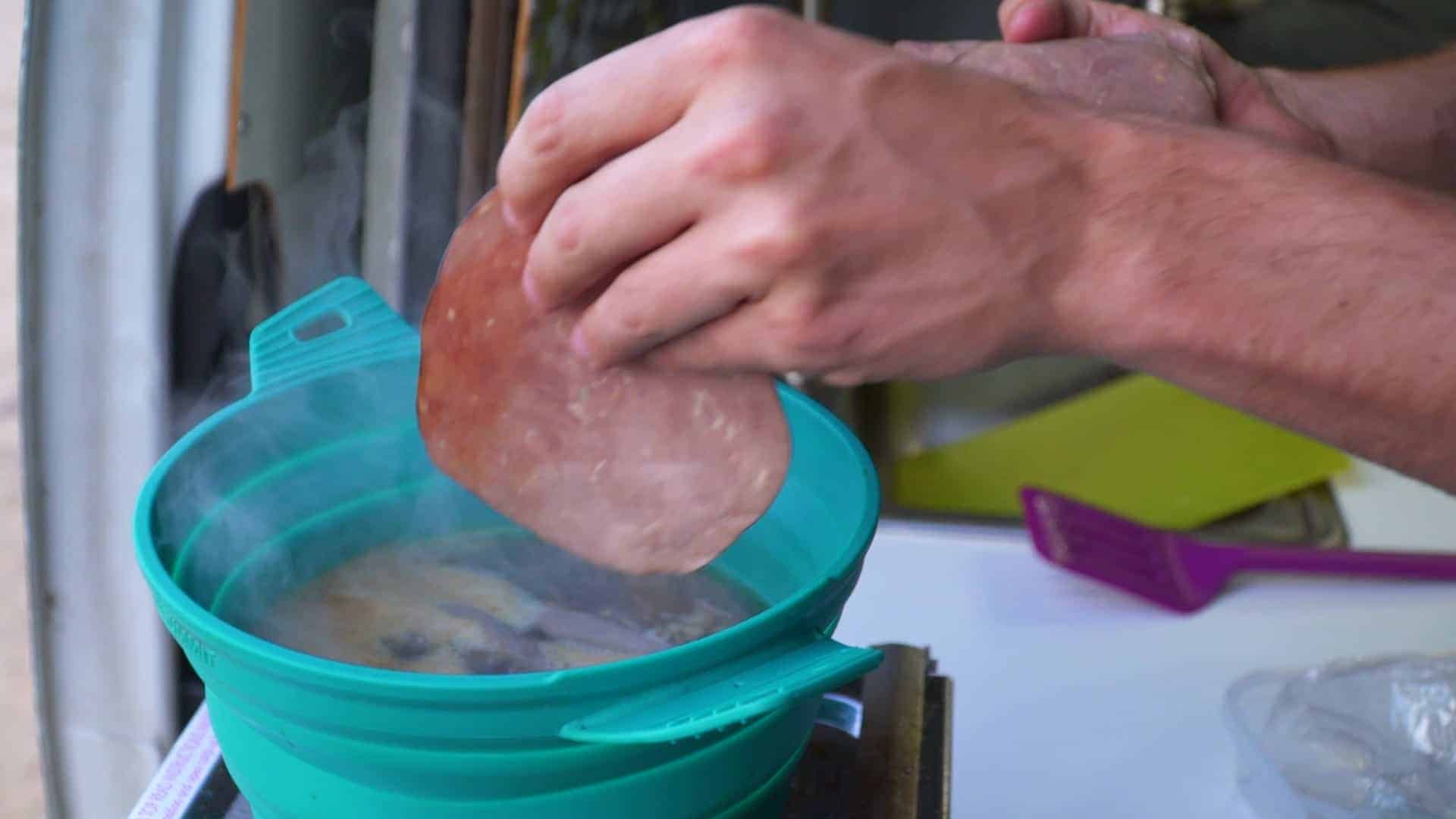 Cooking in a Campervan
All in all, we used 5 main dishes in this recipe: X-Pot Collapsible Pot, Saute Pan, Cutting Board, and 2 plates, along with a few utensils. For a fast, tasty meal that doesn't break the bank, that's not too bad!