EXPLORIST.life is all about teaching people how to build DIY campers. We have made tutorials to educate and empower all of you to install electrical systems for yourself; but we are also compassionate to the fact that electrical systems are intimidating, complex, and time-consuming. Introducing: The EXPLORIST.life Certified Electrical Installers network.
This network of installers:
Look for the following badge when choosing your camper electrical installer: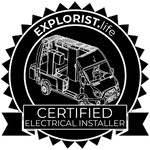 Want to Become an EXPLORIST.life Installer?
EXPLORIST.life Electrical Install Service
Want EXPLORIST.life to personally build your system? Well… That's not really a service we offer as we focus on making videos and tutorials that teach people how to do this stuff themselves, but OCCASIONALLY (like… 1-2 times per year), we need a camper to use as the subject of one of our installs.
FAQ's for the EXPLORIST.life Tutorial Demo Camper:
Q: How much does it cost?
A: You'd be responsible for paying for the retail price of the parts used (which varies widely from system to system). You would NOT be responsible for paying for labor since this would be for the sake of the video.
Q: Where is the EXPLORIST.life shop located?
A: Steamboat Springs, CO
Q: Can I help?
A: Unless you run a Youtube channel in a relevant niche and are wanting to collaborate, we cannot allow outside help.
Q: Can I sleep in my camper overnight while the installation is happening?
A: No. You'd be responsible for finding accommodations or another way back home during the install.
Q: How long will the install take?
A: 3-5 weeks. The video production process greatly slows down installation times.
Q: Can I pay to get priority installation services from EXPLORIST.life
A: No.
Q: When will the next application process open?
A: As the need arises. 🙂
Q: How do I sign up for this service?
A: You'll want to sign up for the weekly EXPLORIST.life newsletter below. An announcement will be made to this newsletter when we open applications for this service.
---
DISCLAIMER
Adventure in a Backpack, LLC DBA EXPLORIST.life (the "Company") shall not be held responsible for installation actions taken or not taken. This list of Installers is intended to be strictly recommendations. Company disclaims any and all warranties, representations or guaranties as to the Installers named on this site and furthermore disclaims any responsibility for job failure, damages or otherwise resulting from or associated with installation by a listed Installer.
By accessing this site, the user assumes all risk and responsibility related to any subsequent work, construction, or improvements completed by Installer, agrees that all claims against the Company are waived and agrees to indemnify and hold harmless Explorist.Life Distribution, LLC and its managers, agents, representatives, and employees from any claims, including attorneys' fees and costs which may be brought against any of the foregoing related to the content of this site, the listed Installers, and any actions in connection with use or reliance on this website.
---