Affiliate Disclaimer: As an Amazon Associate, EXPLORIST.life earns from qualifying purchases..
CamelBak Pursuit Series: Round One
A weekend filled with mountain biking, rock climbing, paddle boarding, and meeting new friends? Yes, that's right up our alley!
What is the Camelbak Pursuit Series?
When we got the invite from our buddies over at Kuju Coffee to attend the Camelbak Pursuit Series, we jumped on the opportunity. The only thing was… what was the Camelbak Pursuit Series?
This was the first event of its kind, so no one really knew what we were all getting into. We knew there would be adventures aplenty, but we weren't sure what else it would be. What the Pursuit Series turned into was the biggest and best adventure festival we've ever been to.
Pursuit Series: Day One
The first day started out pretty chill, with us working with Kuju Coffee to get the morning started. But no, we weren't pouring coffee for others; we were actually teaching them how to brew the perfect Pocket PourOver™. That pretty much set the precedent for the entire weekend. It wasn't just about doing, it was about learning.
As the day got started, everyone branched out into their individual classes. You could choose classes from cooking in the backcountry to yoga to rock climbing and more. I'll list out some of the classes later in the post, but you get the point. There was a LOT to choose from. For the first day, we mostly stuck around the Kuju Coffee booth to help out and see if there was anything going on in the village before taking a few classes.
Learning Adventures
I took a wilderness first aid course while Nate learned how to slackline and brushed up his mountain biking skills. We visited with some of the other sponsors of the event and made some great connections that first day.
That evening after dinner, the activities began to wind down and everyone gathered in the Pursuit Village for music, drinks, and s'mores while excitedly sharing their experiences from the day.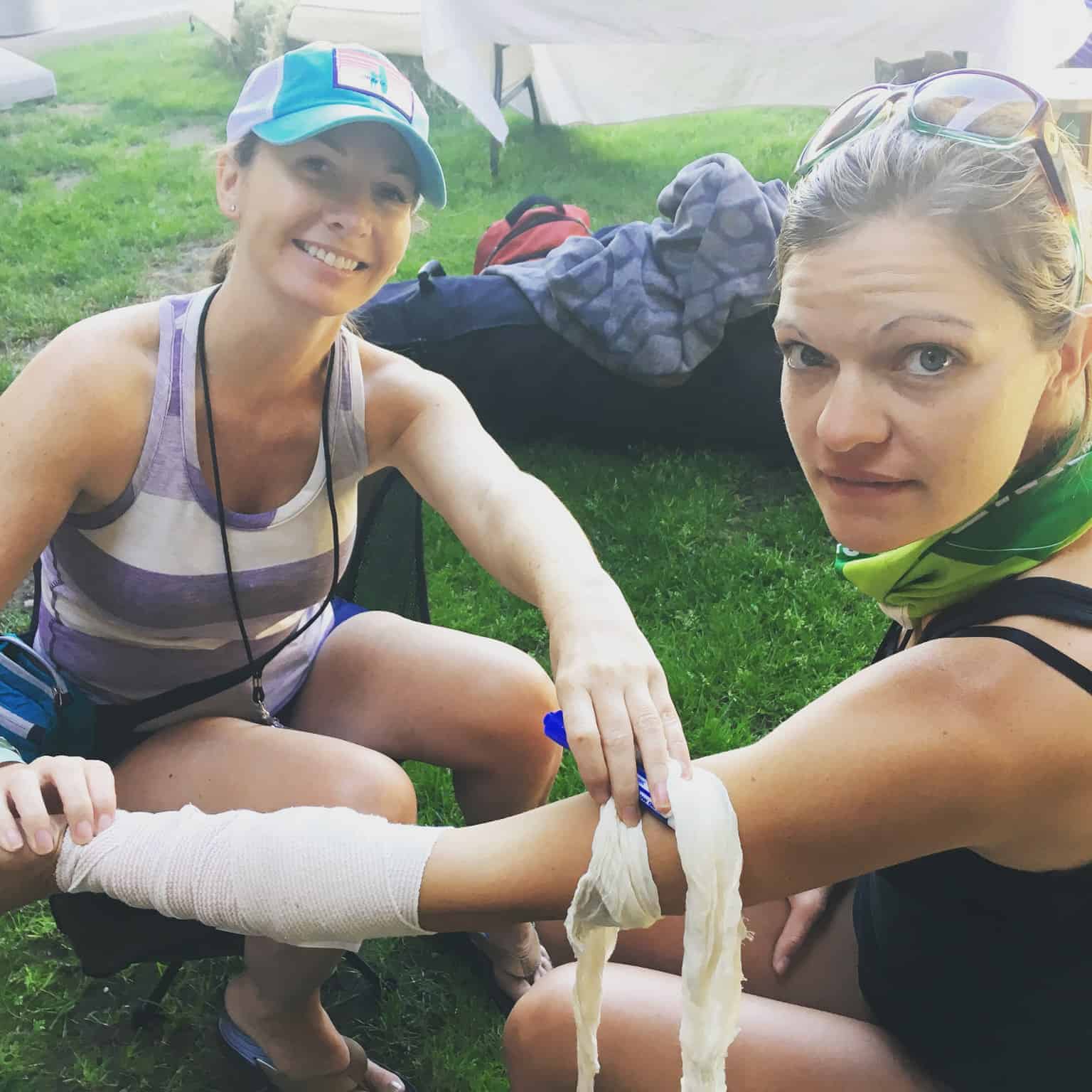 Pursuit Series: Day Two
Day two began with another round of Kuju Coffee, and everyone started catching onto how to brew their PourOvers™. Once everyone was fully caffeinated, they once again set off on some adventures. This time, Nate and I joined in on more activities.
We had met Kassondra Cloos from SNEWS the evening before, so we both jumped in on her course to learn more about writing for the outdoors industry. I hope I soaked up a bit of her knowledge to pass on here!
Slackers
Nate enjoyed slack lining so much the prior day that he joined in with my class when I took the same course. We've both slack lined before, but not with much success ever. Having a proper teacher made all the difference, and we both actually did quite well on the slack line.
The Unlikely Shuttle to SUP
We then headed over to the reservoir to take a stand up paddle boarding class. Oh, and the shuttle to the reservoir? A Tesla Model X. Not too shabby! I felt pretty posh pulling up to the beach in that gorgeous car. They demonstrated the autopilot mode, which was honestly a bit mind blowing how it knows the road so well. The paddle boarding class was another very informative class, teaching us proper techniques and best practices.
When paddle boarding was over, I made my way back to the main village (via a Tesla Model S this time) and took an intro to mountain biking course. I have to say, having someone teach proper form and techniques was a game changer. I have a great mountain bike and now I'm really excited to get out and put it to better use now. That's really what this weekend was all about; learning how to get out and take more adventures.
Dinner at Snowbasin Lodge
Dinner was at the lodge at the top of Snowbasin Resort the second evening, so we took the chair lift up the mountain. The views from up there were incredible. Being on a chair lift again definitely made me miss skiing. This was the first time I'd ever been on a chair lift in the summertime!
After dinner, Nate went on a night time mountain bike ride while I went to the village to mingle with friends.
New Friends, New Memories
The vibe back in Pursuit Village after dinner was different the second night. It was less of people meeting each other and more the vibe of a bunch of old friends getting together again. Most of us had just met the day before, but by the end of the second day, we were like old friends. We'd shared stories, we'd learned together, we'd laughed, we'd struggled, we'd uplifted each other. Of every festival and camp I'd been to before, this was the best connection I'd ever had with people who were complete strangers just 48 hours ago.
Day Three: Exhausted but Still Going
If you watch our video above, you can see on Nate's face just how everyone felt the morning of the last day: exhausted. We had been through two days of adventures, and this was the last day to get your top classes in before the Pursuit Series was over for Snowbasin.
Kuju Comradery
Something really cool happened the morning of day three. We had been teaching people all weekend how to make their Pocket PourOvers™, and we were there and ready to do the same thing Sunday morning. Instead, there was a shift in people. Those who had been coming to get their coffee from us at Kuju Coffee knew how to do it perfectly. And when someone came to the booth who hadn't yet learned, there was a sense of pride from other participants that they could teach each other. We were no longer teaching how to use the PourOvers™, but facilitating the team effort to get a good cup of coffee for everyone.
After morning coffee, we set out on our last day of adventures. I stayed pretty low-key on Sunday, after being exhausted from the prior two days of activities. I attended a natural soap class, composting, and then sadly missed my final chance to do yoga at the event because I was chatting too much. Nate's afternoon consisted of mountain biking (again), rock climbing, and capturing video of everyone's adventures.
Wrapping Up and Saying Goodbye
As the afternoon wrapped up and everyone started to head out, it was tough to say goodbye to all of the new friends we had made during the event. We all exchanged information and promised to keep in touch, reminiscent of youth summer camp when you all go your separate ways.
The Camelbak Pursuit Series turned out to be an incredible event that not only taught people the skills necessary to have adventures, but also brought together people who can now take these adventures as friends.
So, what was the Camelbak Pursuit Series? It was a three-day, adventure packed learning experience that can only be understood fully by attending the event for yourself. Luckily for you, the next Pursuit Series is just a month away in San Francisco. Will we see you there?
A special thanks to our sponsor, Kuju Coffee, who invited us to attend this event with them as ambassadors. We arrived as ambassadors and left as friends, and we look forward to many more adventures with Kuju Coffee.