Traveling as a business person or working from the road adds some logistical nuances that require a bit of pre-planning. To make sure you can stay connected on the road, it's imperative to check your plan and make sure you have all of the information necessary to have uninterrupted wifi.
On average, we use about 80-100GB of data via tethering to our laptops. That doesn't include the amount of data we use on our phones, which averages 50-75GB of combined data usage. With this heavy data use, having a top-notch plan with great coverage is imperative.
*This information is updated as of August 2019. I will periodically check plans and re-analyze the options and update them here.
These comparisons are mainly based off of price, the quantity of data, and coverage. I'll be focusing mainly on the major carriers: Verizon, AT&T, Sprint, and T-Mobile in the US and Rogers, Telus, & Bell in Canada. Other countries will be added as we travel there and research them ourselves!
*Prices, plans, and coverage are all constantly changing in this industry. Results discussed below are based on our personal experiences as well as the research we have done. Your mileage may vary. If you have a lead on alternative plans, let us know in the comment section at the bottom of this post (Please include links to sources).
Here is a summary of the plans and options I'll be discussing throughout the rest of this blog post: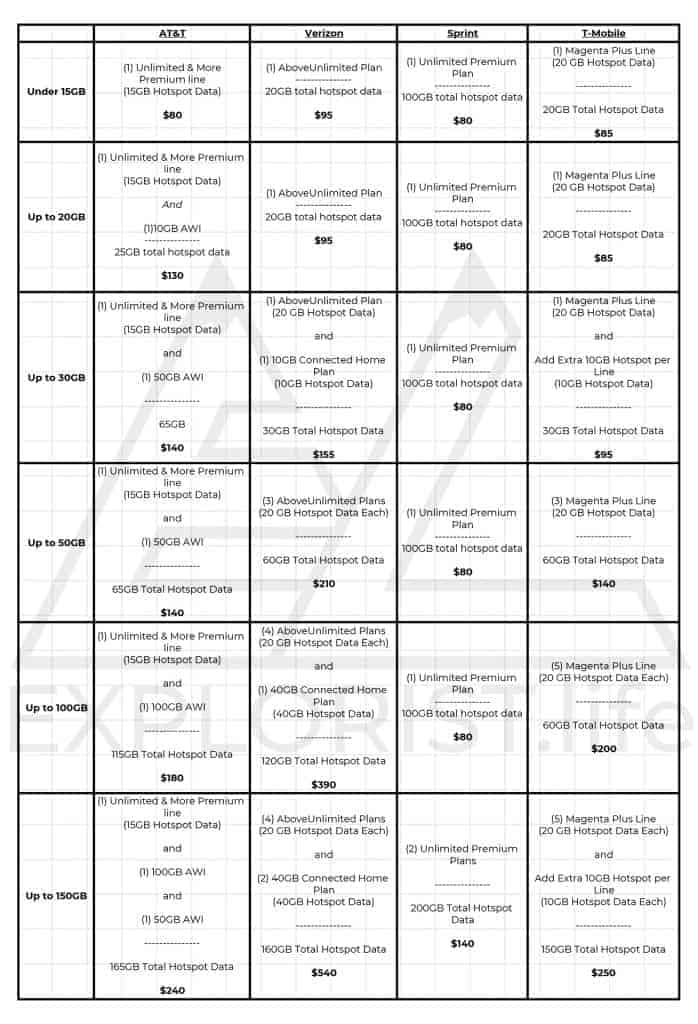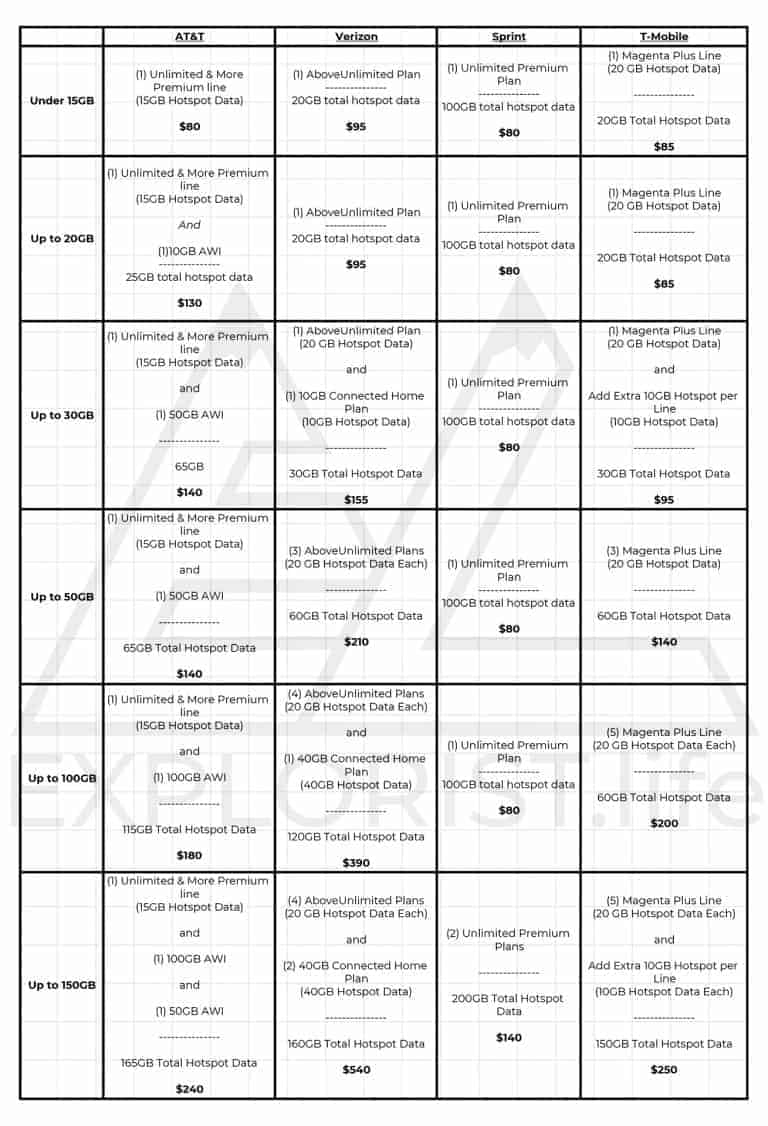 Smartphone Tethering, Hotspots, and Wireless Internet
There are a few different ways that we can get wifi to our laptops while traveling. There are tons of talk, text, & data plans out there, but for this post we'll be focusing on the ones that are the best for tethering to a laptop and getting connectivity for working.
Smartphone plans with tethering
Smartphone plans with tethering is the first option. Tethering means that you use your smartphone and turn on the "Mobile Hotspot" option to create a wifi signal that you can then connect to from your laptop. This is a great option if your laptop data usage is relatively light (under 15GB per month).
Mobile Hotspots
Mobile Hotspots work in a similar fashion as a smartphone with tethering, except that the hotspot is a dedicated device that is really only used for tethering. This is another great option if you have light usage and you don't have a cell phone plan that allows tethering. It's also a great option for supplemental data for medium usage when paired with a smartphone tethering plan. That would work well up to about 30GB per month.
Wireless Internet device
A Wireless Internet device is similar to a hotspot, except that it is meant for Home Internet. These plans are larger data plans and are meant to service the needs of homes that do not have access to other internet services like U-Verse or Verizon Fios. The device needs to be plugged in (typically to an AC outlet). It is powered for data off of the 4G network, which means that it can work anywhere.
Unlimited Talk & Text Plans for Travelers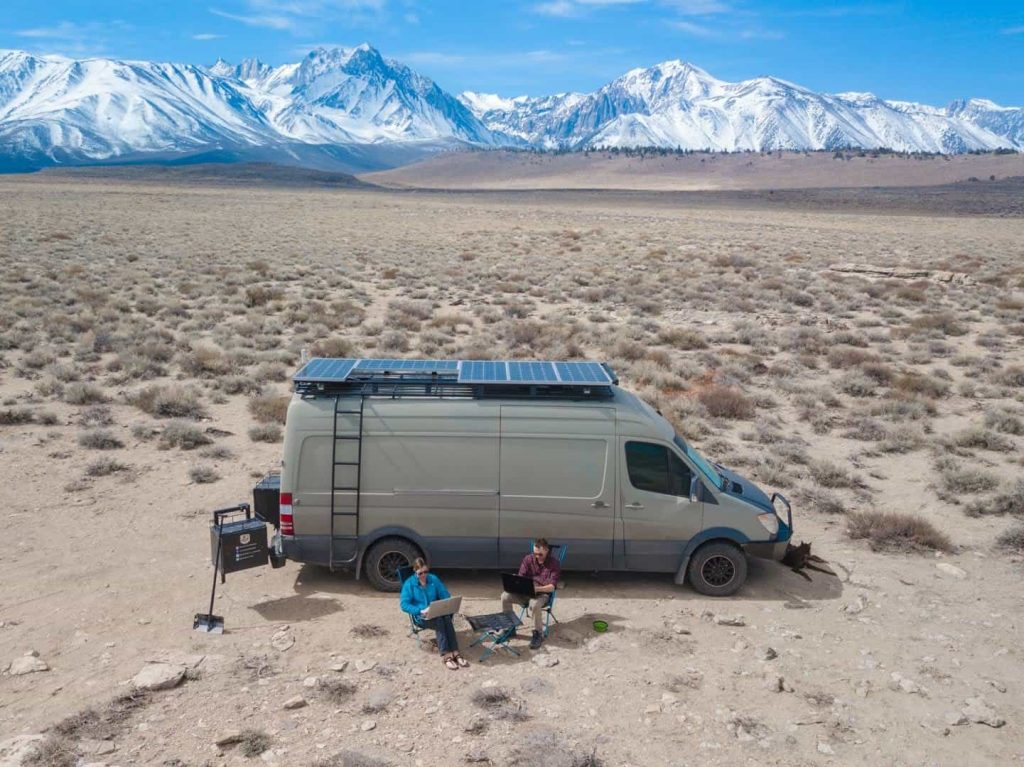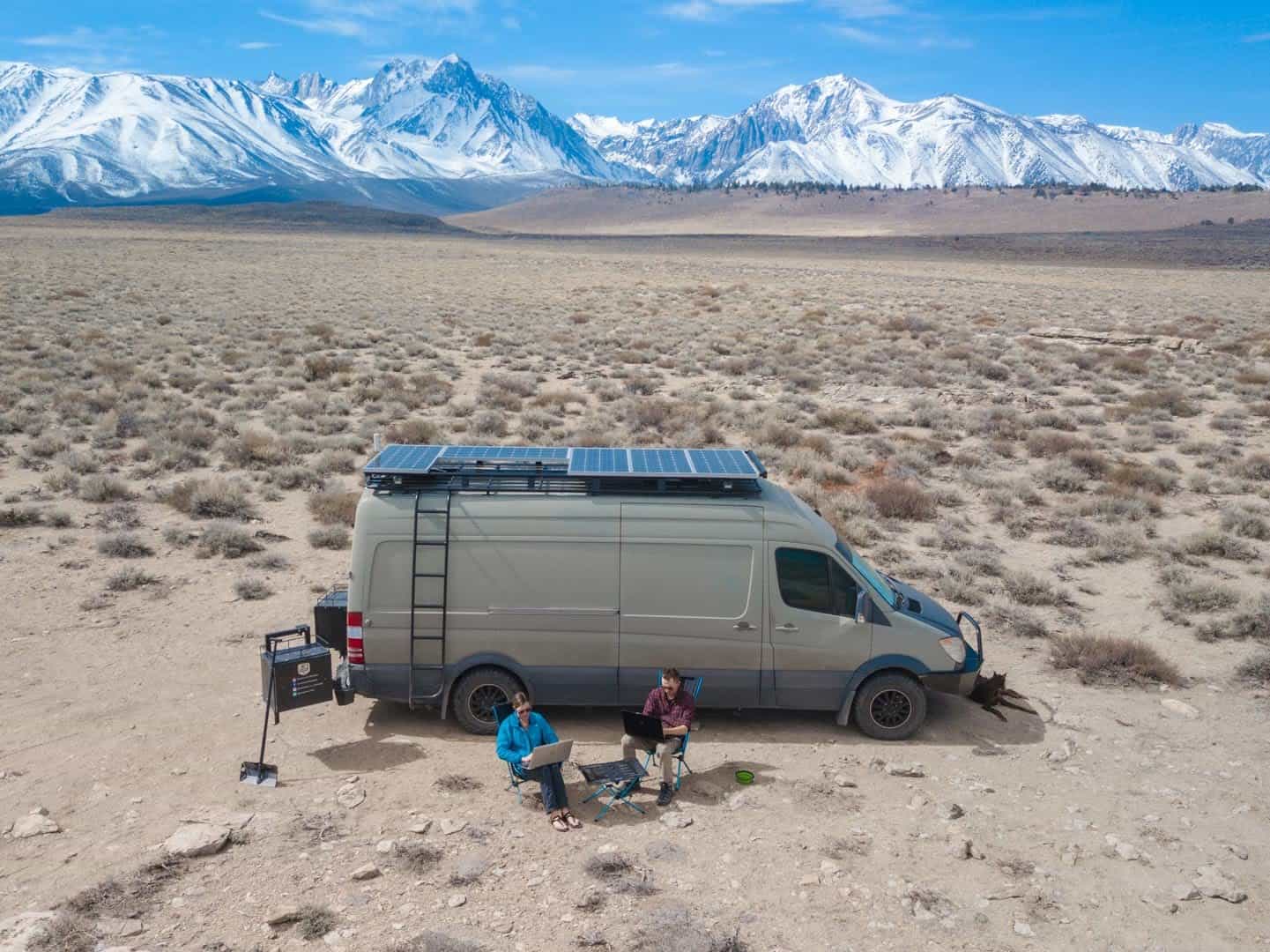 These plans include talk, text, and data. The amount of data, network coverage, and added perks are the main difference between these plans.
AT&T: Unlimited & More Premium Plan
The AT&T Unlimited & More Premium Plan will give you Unlimited Talk, Text & Data (throttled after 22GB in congested networks like big cities), 15GB 4G LTE Hotspot Data, Unlimited Talk, Text, & Data in Canada & Mexico*, DirecTV streaming channels, and your pick of an entertainment service (HBO, Showtime, Starz, Pandora, VRV, or Cinemax). Tiered billing from $80 for one line per month to $48 per line per month for 4 lines.
Verizon AboveUnlimited Plan
The Verizon AboveUnlimited Plan includes Unlimited Talk, Text & Data (throttled after 75GB in congested networks), 20GB 4G LTE Hotspot Data, Talk & Text in Mexico & Canada*, 0.5GB/day Data in Canada & Mexico*, 5 TravelPass days per month for 0.5GB/day Data in 130 countries, 500GB Verizon Cloud, Apple Music. Tiered billing from $95 for one line down to $60 per line for 4 lines.
Sprint Unlimited Plus Plan
The Sprint Unlimited Premium Plan includes Unlimited Talk, Text, & Data (throttled after 50GB), 50GB 4G LTE Hotspot Data, Hulu subscription, and Unlimited Data in Canada & Mexico* – $80 First line (with autopay discounts), $60 second line, tiered after (3rd line free).
T-Mobile Magenta Plus Plan
The T-Mobile Magenta Plus plan includes Unlimited Talk, Text, & Data (throttled after 50GB), 20GB 4GLTE Hotspot Data, 5GB Data in Canada & Mexico*, free Netflix subscription. Tiered billing from $85 for one line down to $40 per line for 5 lines.
*Note: if over 50% of usage is in Canada/Mexico in any 60-day period, your plan is subject to be cancelled.
US Data Plans & Wifi Connectivity Options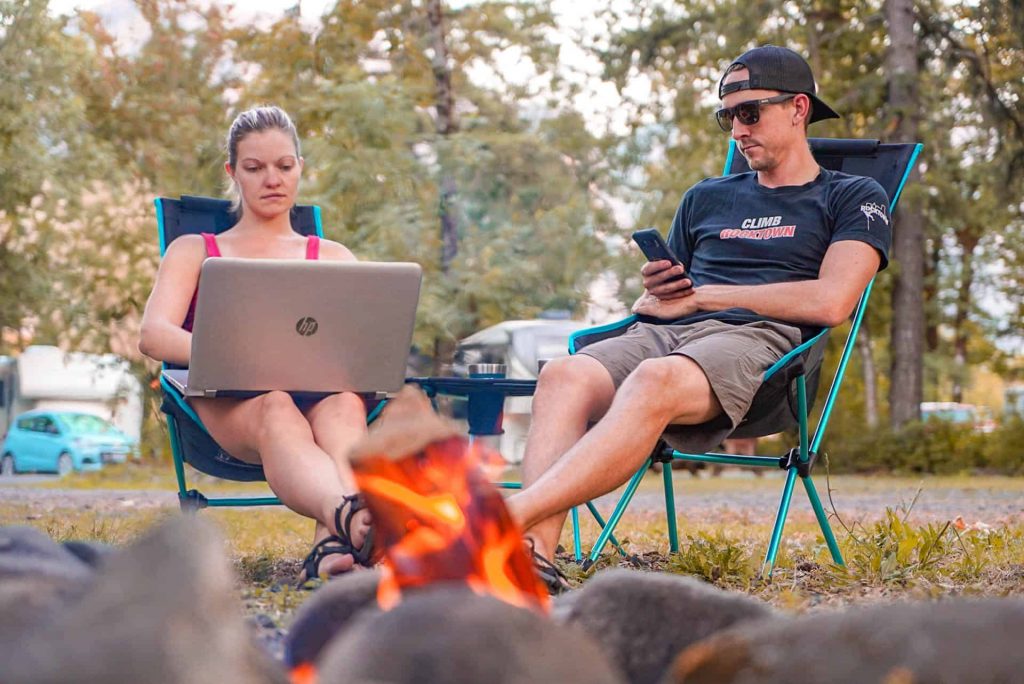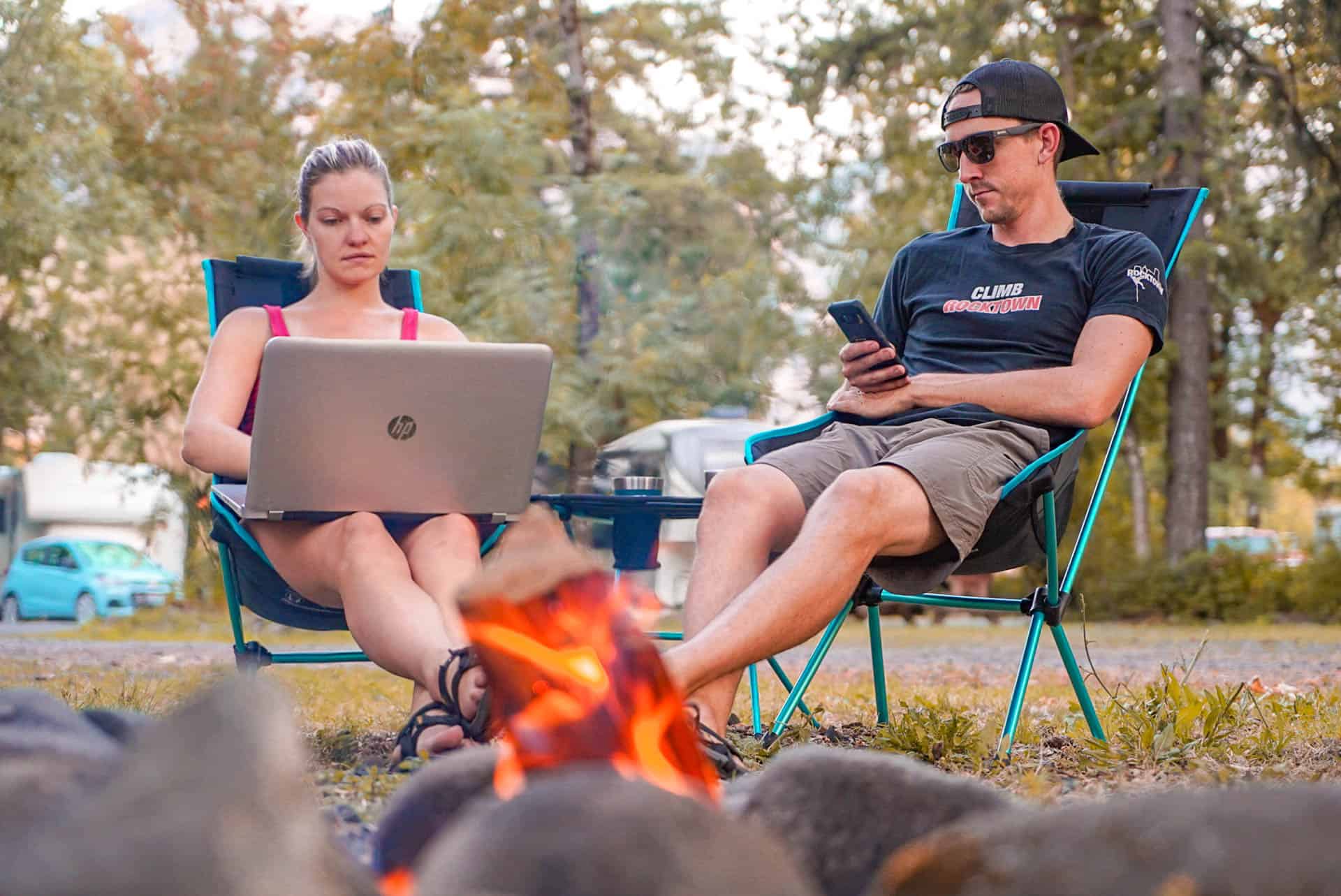 These plans are for data only and would likely be used alongside, but separate from, one of the unlimited talk, text, and data plans from above.
Again, these plans would be mainly useful for if you were needing to get internet to your computer. If all you need is data to your phone, and heavy computer usage is unnecessary for your needs, these plans would likely not be necessary.
AT&T Wireless Internet (AWI)
The AT&T Wireless Internet option is a separate device similar to a hotspot, which allows up to 20 devices to be connected to it at a time. The device runs off of the cellular network, so the better the signal, the better this will work. The plans available are:
10GB for $50/month (I don't recommend this one, see next option)
50GB for $60/month
100GB for $100/month
Note that this plan is relatively uncommon and many store reps actually don't know about it. When we got the plan, there was only one person in the store that had ever even heard of it, and no one had ever activated it prior to us. So, if you get looked at like you're crazy, pull up the AT&T website and show them the plan you're looking for. Otherwise, the sales reps will try to sell you a hotspot rather than an AWI, which is not what you want.
Verizon Connected Home
Verizon does not offer a true home wifi plan any longer after they discontinued the SmartHub. However, the Verizon Connected Home plan is a hotspot data-only plans that are compatible with a Jetpack MiFi. The plans currently available for this are:
10GB for $60/month
20GB for $90/month
30GB for $120/month
40GB for $150/month
Sprint Hotspot Plans
While Sprint currently does not offer a true home internet solution at this time, they do have options for hotspot data that can be viable options. The current Sprint hotspot plans from include:
10GB for $30/month
50GB for $50/month
T-Mobile Hotspot Plans
T-Mobile also does not have a home internet plan, so the best bet is a stand-alone T-Mobile hotspot plan. For that, you'll run at:
14GB for $55/month
18GB for $70/month
22GB for $85/month
T-Mobile does not require a contract, which means you can start and stop this plan as needed. If you plan to do that, I'd recommend buying the hotspot in full ($72.00 at the time of this posting). Canadian friends, be aware that you can actually get this plan *if* you have a US bank account. No US Social Security Number is required.
Canada Data Plans & Options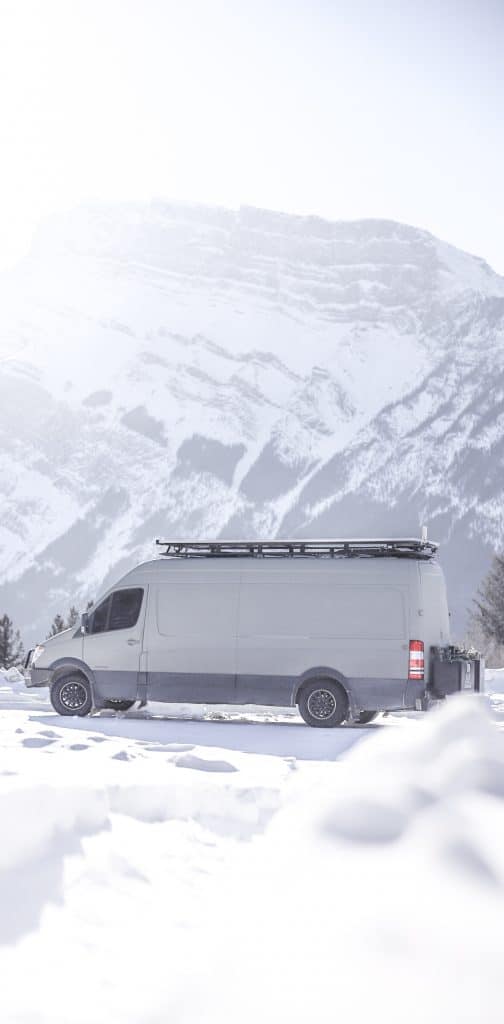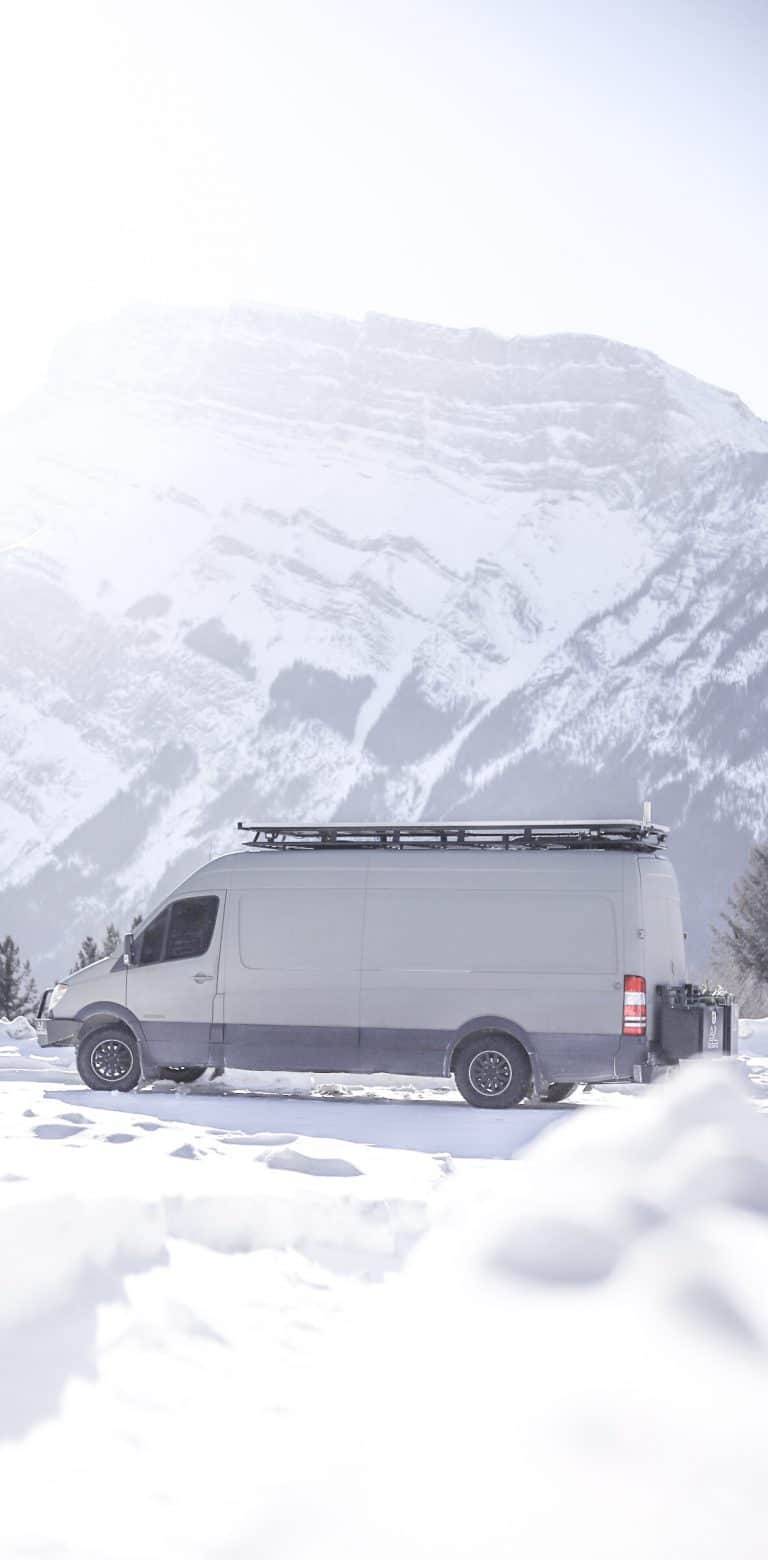 After nearly a year of having our trusty AWI in the US, we kind of forgot that internet is still an issue elsewhere. It wasn't until we crossed into Canada this year that we remembered that our AT&T Wireless Internet does not have international capabilities – OOPS! Our cell phone plans from AT&T do work in Canada (and Mexico), so it sort of slipped our minds. But going from 130GB/month to 30GB/month was a BIG wake up call.
We desperately reached out to our network and asked for data solutions in Canada. Unfortunately, the options were slim, but our good friends over at V & M Van Life came through for us with a spare RocketHub they had. That allowed us to have an extra 55GB of data for the month that we'd be in Canada, but it came at the cost of about $150. Worth it, for sure, but definitely more than what we'd expect in the US.
So, if you don't have an amazing friend that happens to have an extra RocketHub, what do you do for wifi? Fortunately, you do have some options. Unfortunately, none of them are cheap. Let's run through the three major Canadian carriers first:
Rogers
Rogers essentially told me there are no options for foreigners because you'd need to provide two forms of Canadian ID. Their prepaid plans are practically non-existent for data (up to a whopping 1GB). So this isn't an option.
Telus
If you purchase a Smart Hub or Internet Key from Telus, you can get up to 10GB of data for $85CAD plus $.05/MB for overages (that's $50 per gig for overages). The agent there told me that a US citizen can get this plan and they simply run a US credit check in-store.
Bell
It's tough to tell on this one, as I spoke to 4 different agents from Bell and not one could tell me if a US citizen could sign up for a plan from them. After being transferred 4 times, I gave up.
My Verdict is none of these plans are truly viable for excess data usage in Canada. What we would/will do in the future is simply add another line or 2 to our existing AT&T phone plan, giving us an additional 15GB of hotspot data per month that is usable in Canada. Our plan, in particular, allows us to add and remove phones with no contract at $20 per month if we own the device outright. Therefore, I'd simply purchase 2 cheap phones outright, then add and remove them as needed on our plan. That would give us a total of 60GB of hotspot data per month while in Canada. Watching our usage and spreading out some work at coffee shops and other wifi hotspots would allow us to get through a month with just 60GB of data.
Rentable Worldwide Mobile Hotspots for Travelers
Mobile hotspot only devices from companies like SkyRoam, Roaming Man, or TEP Wireless work off of cell towers and can generally be used in almost any country. The limits on these devices are largely based on the cell signal available and the power of the device itself. The major pro of a mobile hotspot such as these is that there are no subscriptions, you only pay for what you use. Additionally, some of these offer discounts if you buy the device, which is great for frequent travelers.
However, connectivity on these devices is spotty at best, and speeds can vary greatly. Although these use the 4G networks, they never seem to get anywhere near the speeds that a cell phone does, which is concerning.
We have personally used TEP Wireless and had horrible results with it. The speeds were 3G speeds, not the originally advertised 4G speeds, and we never had enough connectivity to even load a single website. Even worse, after our trial of 2 weeks with the TEP, our device registered that we had used several GB of data, which in our eyes was impossible seeing as how we never were able to even load a website. After discussing it with TEP, they thought we had a faulty device and wanted us to try another device. However, they never responded to exchange the device, so I suppose we'll never know.
Reviews of both SkyRoam and Roaming Man seem to be a bit better than TEP, but still spotty at best. We have yet to test either of these devices, so we can only go off of reviews and company information at this point, but I don't think we'll be making the switch anytime soon.
TEP Wireless
TEP Wireless has unlimited Wifi for $8.95/day for 3G data, throttled after 1GB per day. 4G Speeds an additional $1.95/day. Total – $337.90 for 1 month (31 days) at 4GB speeds, or $11.26 per GB.
Skyroam
SkyRoam (Original) has unlimited Wifi for $9.95/day for 4G data, throttled after "heavy use" in congested networks, although SkyRoam does not define what heavy use is considered. Total $308.45 for 1 month (31 days). Assuming data is throttled at 0.5GB per day, that would be $19.90/GB
SkyRoam Solis w/ GoData is $9/month for 1GB 4G data + $9/GB after 1GB. We average 70 GB of data use on our laptops per month, so that total would bring us to a whopping $630 for 1 month! The benefit here would be that we would have high-speed data rather than throttled data, which is imperative for working.
Roaming Man
Roaming Man has unlimited Wifi for $9.99/day for 4G Data, throttled after 0.5GB per day in congested networks. Total of $309.68 for 1 month (31 days), or $19.98/GB.
My Verdict is with International Day Pass options from all major US carriers for around $10/day, I cannot see how any of these rentable hotspots would be worth the purchase. Personally, I would trust the hotspot on my phone over these options.