After our hiking trip to Corona Arch, we dropped off the pups at the RV and we headed over to Arches National Park in Moab.  Arches National Park is home to over 2,000 of the infamous sandstone arches that Moab is known for, including Delicate Arch and Landscape Arch.  There are also sandstone towers throughout the park that are a wonder to see.
Some Facts About Arches National Park
Arches National Park is just a few miles north of Moab on Highway 191; you really can't miss it.  Park entrance is $25 per vehicle, but if you plan to visit multiple national parks within a year, we strongly suggest getting the America the Beautiful park pass.  For just $80 for the year, the pass gives entrance to all national parks in the U.S. for the year.
As with most National Parks, it was very crowded at all of the major stops.  Although we went later in the day and many people were leaving or winding down their activities for the day, there were still quite a few people on the trails.
Regulations inside the park are quite stringent, similar to any other national park.  This is one reason we typically do not frequent national parks unless they happen to be close by where we are visiting, such as Arches National Park.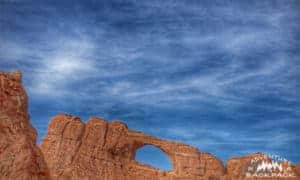 Viewing the Arches
Landscape Arch was about a 1.5-mile hike in from Devil's Garden, and we did complete that hike.  Double O Arches were another 2.5 or so miles from Landscape Arch, but since we got a later start, we did not go that far out.  Landscape Arch is definitely a beautiful arch, spanning a massive 290 feet across.  Landscape Arch is the second largest natural arch in the world!  There used to be a trail going directly under the arch, but it was closed due to the arch shedding large chunks of rock near the trail.  Now, you can only get to a viewing section before the trail is fenced off and hikers are not allowed closer.  It is certainly a sight to see, but it is a bit less satisfying since you can't get close to it.
There are several arches that can be viewed from the road or just a very short walk in, and we drove around to see these as well.  As it was getting late and we were less than impressed by Landscape Arch, we did not hike in to see any other arches in the park.  We did take the short viewing hike to see Delicate Arch rather than the full hike to the bottom of the arch.  We were glad we did that, too, because we could see from our viewpoint how many people were on the hike to the bottom.  There would have been too many people for us to fully enjoy the beauty of the arch, so we were happy seeing it from a distance.
Our Experience of Arches National Park
Overall, Arches National Park is a beautiful area that is home to some natural wonders.  We loved seeing these sandstone arches and towers and speculating how long ago they formed.  However, as with most national parks, it was over crowded and over regulated for our taste.  We completely understand the need for all of the regulations, but it is sad that the disrespect for the natural features of the park have led to the need for these regulations.  In general, we appreciate seeing people respect natural beauties enough to preserve them without the interference of the government.  We would prefer that the fences and gates and signs everywhere were not needed.  It begins to feel more like a zoo than nature when you have sidewalks, fences, gates, trash cans, and signs everywhere you look.  It takes away from the natural beauty of the park.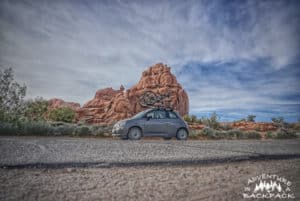 We rated Arches National Park just two stars, mainly for the above reasons.  We had higher expectations for the arches, especially after seeing Corona Arch in all its natural beauty.  This would be a great day trip for a family, but we do not think it is a multi-day event to stay in the park and see all of the arches.  You can experience so much more by just having a little bit of respect for nature and going to some public lands.
Trail Conditions
Trail Name: Landscape Arch in Devil's Garden, Arches National Park
Location: Moab, Utah {GPS Coordinates: 38.7331⁰ N, -109.5925⁰ W}
Distance (roundtrip): 3 miles
Weather: Sunny, clear, approximately 80⁰ F
Time of day (Start): 3:30 pm
Time of day (Finish): 5:00 pm
Dog Friendly: No, dogs not allowed on trails inside Arches National Park
Overall Rating: 2 stars