Adventure Travel Holiday Gift Guide: $50 to $100
As we continue on our holiday gift guides, we are now up to the fourth installment, covering gifts ranging from $50 to $100. If you missed the previous gift guides, be sure to check them out, starting with FREE gifts HERE!
Gifts for Adventurers from $50 to $100
While the holidays are not all about material items, for many people it is the one time of year to splurge a little and get those items (for yourself or others) that you may otherwise pass up. For us, Christmas has always been a time to get the gear each other has had their eye on for the year – backpacks, skis, hammocks, you name it! Our Christmas exchanges have long been centered around adventure, which is why we decided to put together these gear guides. Hopefully we will spur some ideas for the outdoorsmen in your life with these awesome gifts for adventurers!
Icebreaker Merino Wool Shirt $60
Sixty bucks for a T-Shirt? Friends… yes… Merino wool is not only fast drying, but it is naturally anti-microbial. This means: IT DOESN'T STINK even after a few days of use without washing. If you know somebody who stinks after the first day of a road trip, we promise it's not selfish for you to buy them one of these shirts.
Luna Sandals Mono 2.0 $95
Any time we aren't in ski boots, we are in our Luna Mono's… Okay, that's a slight exaggeration, but barely. We have put HUNDREDS of miles on our sandals over nearly every imaginable terrain all over North America. We always giggle when we show up to a 8 mile hike wearing our Luna's and somebody asks if we need real shoes. "Nah bro… Lets GO!". Change somebodies footwear life: get 'em some Luna's.
ENO DoubleNest Hammock $70
What can we say about hammocks other than they are incredible? I don't even have to try to convince you on this, do I? We have one single and one double hammock. The single is a bit lighter, but the double is much more cozy and easier to move around in without fear of falling out. Gift this to somebody you want to hang out with.
Amazon Kindle E-Reader $80
The struggle of carrying around heavy books while on vacation or traveling is no more with an E-reader. I made the switch a while back to digital books and have not looked back. Do you know someone who loves to read but also loves to travel and adventure? Perfect gift, right here!
Peak Design Camera Clip $80
For the adventurer who loves to capture every moment. One end goes on your belt, the other goes on your camera. This makes quick drawing your camera when the action hits possible and hold the camera tight when you need to scramble up over that rock ledge. This piece lives on my daypack. Perfect gift for your favorite "run and gun" photographer/adventurer.
SealLine Boundary Pack Dry Bag $75
This is a waterproof roll-top bag. We use dry bags anytime we are headed out and rain is inevitable or we are going to be playing in the water, but this backpack style is on a different level (and also on our wishlist)! As with regular dry bags, it's waterproof, but also holds air inside…which makes it float! The backpack straps make it super convenient for traveling.
North Face E-Tip Gloves $70
Don't want to miss that shot or selfie while you're on the ski lift, but your hands are freezing? E-tip gloves. These have been a game changer for us as we shoot videos, take photos, and respond to texts on the ski hill. Pick up a pair of these for any adventurer who loves the winter sports and hopefully you'll spur some more action shots from the slopes!
America the Beautiful Pass $80
If you're looking for a unique gift that will really spur some adventure, gift someone the America the Beautiful Annual Park Pass. This pass will grant unlimited access to all of the 59 US National Parks, along with National Monuments. For an adventurer or traveler who enjoys road trips and natural features (and who is in or planning to visit the United States in the next year), the America the Beautiful Pass would be a welcome surprise. Who knows, you may just entice them to take that next road trip!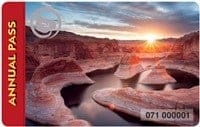 Gifts for Adventure Travelers
Finding the perfect gifts for adventurers can be tough, and we understand that! We've spent years building up our gear stashes and we struggle each year to come up with creative and fun gifts that are also useful to each other. We hope we've helped you spur some ideas for the adventure travelers in your life. If you missed the previous gift guide, gifts ranging from $25 to $50, check it out HERE!
Some links in this post contain affiliate links, which means we make a small commission off of any purchases made through those links. These commissions in no way affect our opinions of these products.