Adventure Travel Holiday Gift Guide: Big Spenders
These are the gifts for your number one on your list! If your budget allows for higher ticket items, or perhaps several friends want to pitch in for a big gift, these are the ones for you. This section of our adventure travel holiday gift guide covers gifts over $100.
If you missed part 4 of our Holiday Gift Guides: Gifts $50 to $100, check it out HERE!
Best Gifts for Adventurers Over $100
These gifts are definitely items that any adventurer would be thrilled to recieve this holiday season! From super handy lightweight chairs to the fun stuff like paddle boards and drones, we've got high ticket gift recommendations for every need. While these aren't the cheapest items we've recommended so far, we know that sometimes higher ticket gear is a necessity.
GoPro Hero6 Black $499
It's the latest and greatest from GoPro. It's every adventurer's favorite tool. This is our new go-to action camera. It's waterproof, shoots super slow motion, and has the ability to put it on all kinds of attachments making the 1st person video shots we get possible. This would make a great gift for somebody who is always on the go…and jumping off of things…
DJI Mavic Pro Drone with Fly More $1,300
Drone camera shots are super popular right now, and for good reason. Until recently, it's been impossible to get these kinds of shots without tens of thousands of dollars of equipment. This drone packs down to a tiny bundle, which makes it easy to stash in a backpack while hiking or traveling. Give the gift of 4k video from the air with this bundle.
Promaster Tripod $170
Do you have a photographer/adventurer/traveler on your holiday gift list? This is the tripod they've been searching for. It folds up small enough to fit in a backpack with plenty of room to spare and is plenty sturdy, even in the tallest setup. The legs are highly adjustable for shooting on rocky and uneven terrain. We've loved this tripod so much, we bought two!
Rumpl Blanket $129
While not a blanket that we own (yet), we've used these Rumpl blankets at festivals several times. It's made from the same technical fabric and fill that our sleeping bags are made from, making it lightweight, yet breathable and still cozy. This makes for an incredibly warm blanket that is made for being outdoors.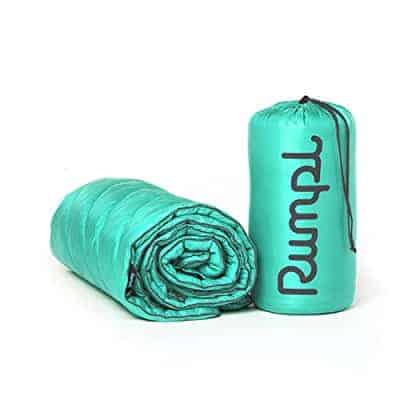 Gold Coast ISUP $524
If your friend or family member loves being on the water, this is the gift for them. Packing down to the size of a 60L backpack, these ISUPs are perfect for the adventurer with limited storage space. And don't worry about durability: these are made from the same tough material as whitewater rafts, and pump up to a firm pressure when fully inflated. From a day out on the lake to riding waves in the ocean, these are your new favorite toy!
Helinox Camp Chair $140
I know what you're thinking: "$140 for a camp chair?!" No, we haven't lost our minds. These camp chairs are on our wish list this year, after using them at several festivals this summer. They are lightweight at just 2.7 pounds, fold down to a tiny package, and are very comfortable. Oh, and they are sturdy! This is something you can toss in your backpack, kayak, or canoe and take along on any adventure.
Sea to Summit X Set $125
Anything that is both useful and collapsible makes for an awesome gift for adventurers, travelers, van lifers, and any minimalist. We've pieced together our set of X series dishes over the years, and we have loved the versatility of them. Having collapsible items that are still durable is always welcome in our lives.
Smith Optics Lowdown Polarized Sunglasses $129
Do you have someone on your holiday list that is super hard to shop for? You know, the person who has everything. Good quality *polarized* sunglasses are an awesome option for those adventurers that seem to have everything they need – because you always need another pair of good quality sunglasses!
Sony Alpha a6000 Mirrorless Camera $548
A high quality camera that takes awesome pictures, has full manual modes, and is as small as a point and shoot? You've hit the jackpot of perfect gifts for adventurers and travelers! This camera has it all and comes in a tiny package, making it perfect to carry on all of your adventures. Many of our best shots have come from this little camera.
Gifts for Adventure Travelers
There they are, our final gift recommendations for adventure travelers for this holiday season. We hope these guides have been helpful in coming up with perfect gifts for the adventure travelers in your life. If you missed our previous guides, start back at the beginning HERE, with our free gift ideas for adventure travelers.
Some links in this post contain affiliate links, which means we make a small commission off of any purchases made through those links. These commissions in no way affect our opinions of these products.